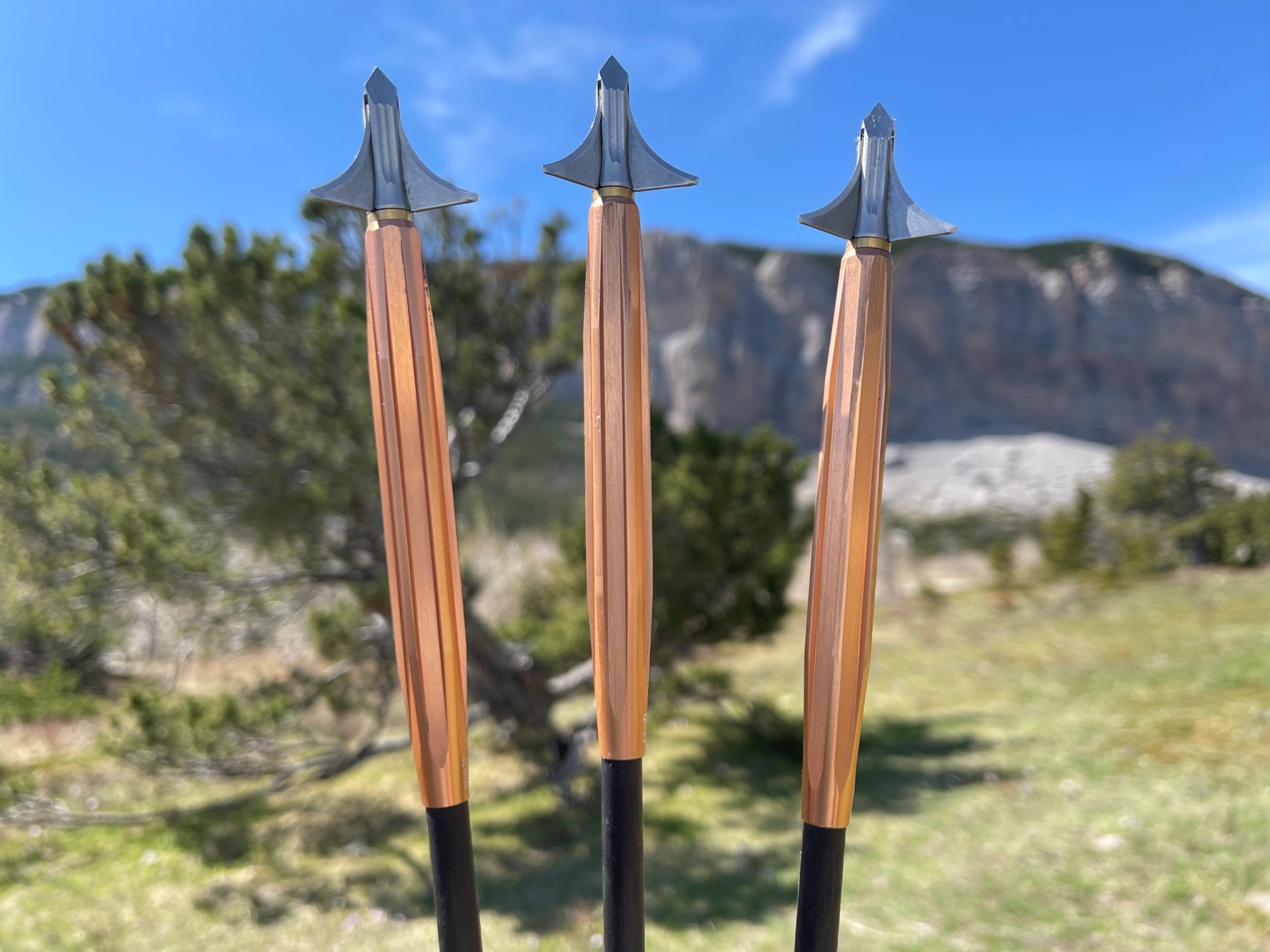 Pro-Tracker Archery started with one simple goal: help all bowhunters recovery game taken by archery. No Animal left behind! Our innovative products, and excellent customer service, help us achieve this goal. The Bad Boys FOC arrow sleeves allow for less bow poundage, resulting in more momentum, better accuracy, and deeper penetration.
This Female Hunter Feature is for Melissa Talboom. Here we go!
Melissa can often be found behind her binoculars glassing, helping film hunts, shed hunting, packing animals out, camping, fishing, kayaking, rifle hunting, and archery hunting. Melissa is getting into backpacking and has plans to learn to upland bird hunt, become a caller, tie flies, and fly fish.
Melissa comes from a family engrained in hunting, gardening, canning, cooking, and full of traditions. She finds being an integral part of the food on her table a very important aspect of life. She gardens and cans her produce. She can fish, field dress an animal, process her own meat, render bear fat, cook wild game, and enjoys sharing these meals with family and friends.
Melissa is a member of the Northern Arizona chapter of the NWTF, co-founder of Western Influence, a contributor to The Mountain Project, and co-owner of Talus Mountain Gear.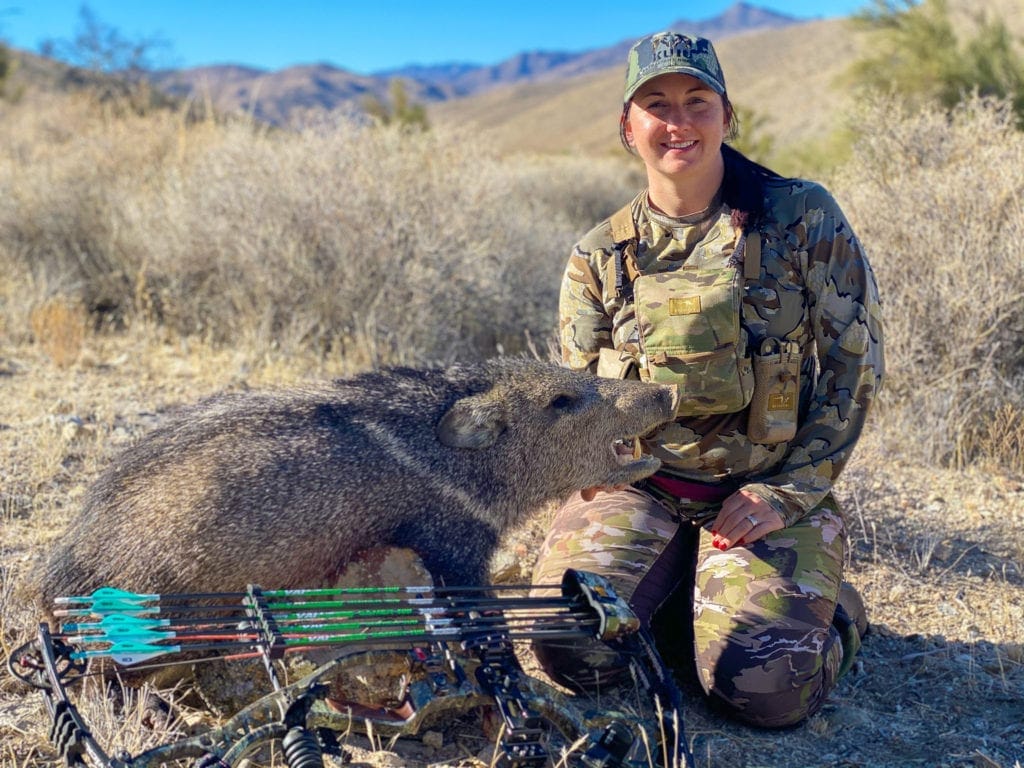 Why do you hunt?
Hunting is all about time with family, tradition, being humbled, putting your physical and emotional strength to the test, life lessons, sweet satisfaction… and of course meat! When I start to isolate the exact reason why hunting ignites my soul, I really narrow it down to one reason. And for me that reason is nourishment. I hunt for nourishment because I am a human and I have needs; just like the deer have needs, and the grass has needs. But it is also so much more than hunting. It is fishing, gathering, and gardening too.
Nourishment can be broken into 3 categories: body, mind, and soul. Nourishment of our bodies is feeding your body. It is the most tangible reason; we need food, water, and exercise. Nourishment of our minds is the act of hunting, thinking critically, feeling blood pumping, adrenaline, let down, struggles, learning to deal with challenges, thinking through strategies, feeling pride, dealing with loss, getting away from the monotony of the modern lifestyle and having an appreciation for what we eat and an understanding of what you waste. Nourishment of our souls is all the things that touch you on a spiritual level. Hunting allows me to feel connected to the earth we live on, the bigger picture, and is where I find God. It allows me to feel connected to the process, the loss, and the hard work. I owe it to myself, to my family, to the animal, and to the world to be intimately involved and connected to the circle of life.
When was your first hunting memory and how old were you?
I can remember about 4 years old, my parents created a "bed" of blankets and pillows in the backseat of the old Silverado, waking my brother and me up super early. They loaded us into the truck in our footed pajamas. We drove dirt roads and glassed for elk. I can remember my mom shooting her cow elk, walking up to it as a family, and sitting on it. Because that is what kids do, I suppose.
What do you love most about hunting?
I love the overall, overwhelming feeling of being disconnected from society, and wholeheartedly connected to nature. I love the way the cold air feels on my skin and how it makes my coffee taste 10x better. I am not a morning person, but I love being up and observing the rest of the world as it wakes up. I love listening to the Robins in the spring. I love spending time with my family and getting away from phones, computer screens, and the monotony of the modern lifestyle. I love hunting most for the peace, health, and nourishment it brings me.
What's your most memorable hunting experience?
My most memorable hunting experience wasn't even a tag I had myself. My favorite hunt I ever went on was my husband's Arizona Archery Antelope hunt in 2018. He was drawn in a unit we did not know much about, especially in terms of antelope. We spent all summer scouting together, learning every piece of that unit. We saw some of the most spectacular Arizona monsoon storms roll through the flats. When the hunt came, stalking in on antelope was a major challenge considering they prefer the flats, the largest bucks have the most does, and those suckers run all over the place while rutting. After numerous strategy changes, I glassed up a bedded buck with a single doe in the trees. I walked my husband in over the radio to about 45 yards. He made a perfect kill shot, and I got to watch the entire thing. The cherry on the top was, he killed his buck on my birthday.
Do you have a favorite wild game recipe?
I LOVE cooking and I have so many favorite recipes! Cooking with game meat, fish we caught, and vegetables from our garden fills my cup. My current favorite recipe is these
Beer Battered Fish Tacos
.
Do you have a dream hunting excursion?
My dream hunt would be an archery moose hunt in Alaska! Jessica Manuell and Tana Grenda are two women I look up to for the Alaskan moose hunts they have accomplished.
What would you say to other women who haven't tried hunting yet?
It can seem completely overwhelming approaching a new hobby that can be as intensive as hunting. And I have to say, it is OK to be intimidated, but DO NOT let it stop you! Any female hunter would gladly give you any tips or tricks on how to be comfortable while in the woods. We also understand how intimidating it can be. I would recommend asking if you can tag along with a hunter before deciding to hunt yourself. Being the hunter adds a lot of pressure, so if you can go on a couple of hunts to get your feet wet and figure out your own system first, you will be way more comfortable and confident. There are also so many different types and styles of hunting as well as ways you can create your own experience. Keep trying new things until something really sticks. It is a completely customizable experience and hobby.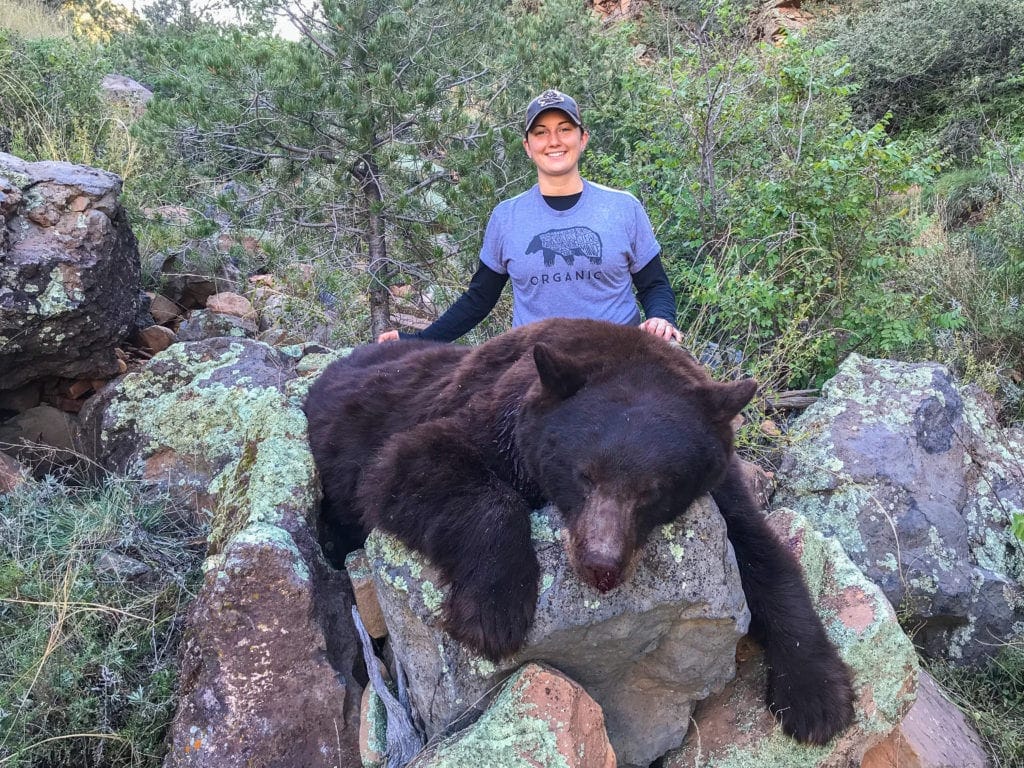 This post may contain affiliate links. Miss Pursuit may earn a small commission for our endorsement, recommendation, testimonial, and/or link to any products or services from this website. Your purchase helps support our work in bringing you real information about hunting and the outdoors.