Kelsey Loper grew up hunting and fishing on a lake in Northern Wisconsin. She later moved to Montana where she found her love for archery elk hunting and running hounds in the mountains. She lives off the grid on the Musselshell River and every day is an adventure! She is a certified vet tech and Mustang trainer.
This female feature is for Kelsey Loper. Ready, set, go!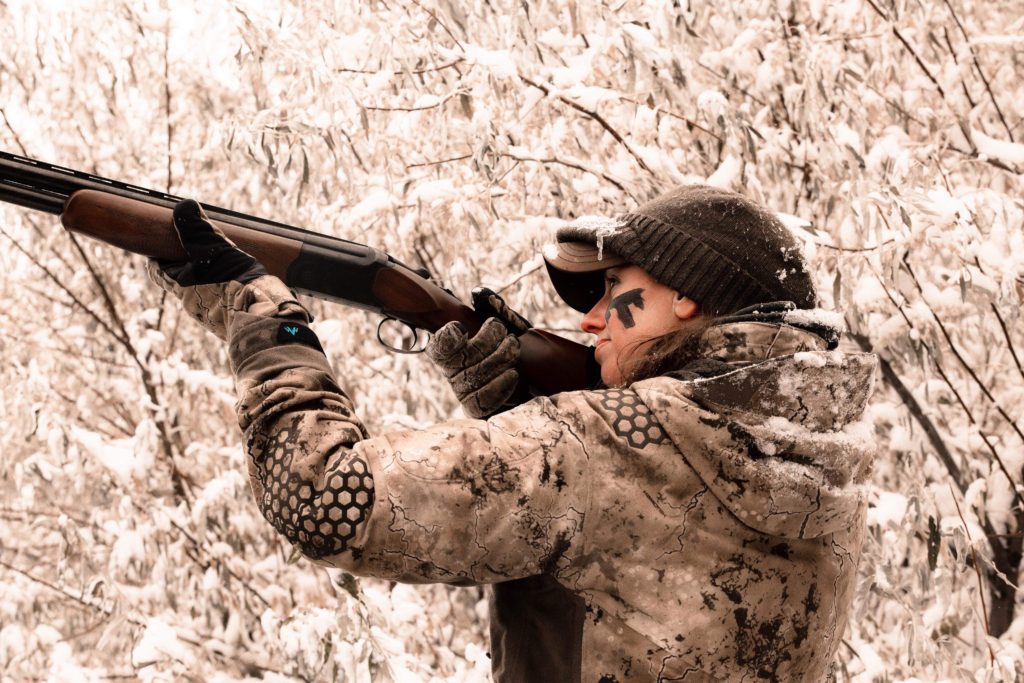 Why do you hunt?
I hunt to provide meat for my family! I love knowing where my food comes from. Nothing we hunt goes to waste.
When was your first outdoor memory, and how old were you?
I've been fishing since I could walk but I'd say my 1st buck was very memorable. I was about 12 years old. My dad and I were walking out of the woods at the end of a hunting day and he was telling me old hunting stories from when he was a kid. He said he shot a deer on a trail like the one in front of us. We looked up and there was a buck just standing there eating – like it was meant to be. My dad told me to shoot him. I was trying to find the deer in my scope and I took so long that my dad thought he was going to run away. I made the shot and got my 1st buck with my dad there.
What do you love most about hunting?
I love the commraderie of hunting. I love sharing stories and making new memories and laughs with friends – even if you don't harvest anything. I went on a ladies' goose hunt one weekend and only shot one goose, but it had to be one of the most fun trips I've ever been on.
What's your most memorable hunting experience?
My Wyoming mountain lion hunt was the best. My grandma passed away and I inherited her 30-30 lever action open sights rifle. My goal was to harvest a lion with it. On our hunt, a screw came loose and the stock disconnected from the barrel. The gun still worked, but was in two pieces. We found a track and after the dogs took it, I busted my butt up the mountain with a 2-piece gun. I was so out of shape. I thought for sure the lion was going to jump and run. I made it. I held the rifle super tight on my shoulder to keep it together and made a perfect shot. I was proud to uphold the heritage of my family of predator control and put meat in the freezer. Mountain lion became my favorite meat to eat.
Do you have a favorite wild game recipe?
I love making Chinese beef and broccoli with wild game. Antelope, red stag, and elk are all great! When I find a great chicken recipe, I always substitute it with antelope and it turns out fantastic.
Do you have a dream hunting excursion?
I just came back from my dream red stag hunt in New Zealand. Now, I have two hunts I am saving for – a Spanish Ibex hunt and an Auodad archery hunt.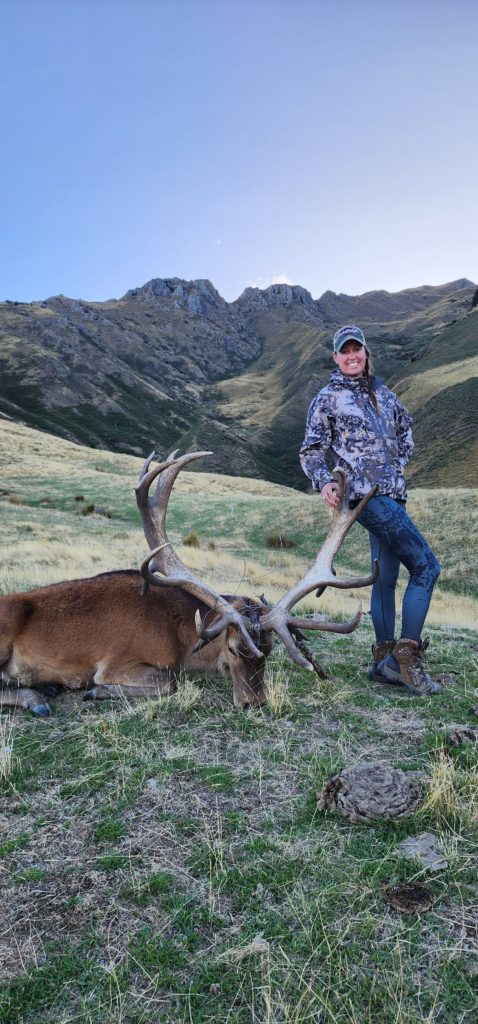 What would you say to other women who haven't tried hunting yet?
Just go for it. You can't screw up. Expert hunters or fishermen have gone days with no success and have made bad shots. Also, bring snacks! You can't have a bad day if you have snacks.
Tell us your favorite gear. What brands and products do you LOVE?
I live in Rockstarlette Outdoors gear. It's outdoor athletic wear for women! I use their leggings for a great base layer! I fish and run 5k's in them. They have hoodies, sports bras, swimsuits, tank tops, hats, capris, etc. in amazing fun patterns – buttery soft fabric that actually fits and is durable! Use the coupon code kelsey10 at checkout for 10% off.
I love Skre and Pnuma camo. They have lifetime warranties and stand behind their products – very durable and warm.
For optics, I use Vortex and Athlon – again lifetime warranty and crystal clear views.
For knives, I use Havalon and Outdoor Edge – great for skinning and butchering.
Hope you enjoyed learning more about Kelsey Loper!
Follow her on Instagram!
Find her on Facebook here, too!
This post may contain affiliate links. Miss Pursuit may earn a small commission for our endorsement, recommendation, testimonial, and/or link to any products or services from this website. Your purchase helps support our work in bringing you real information about hunting and the outdoors.