This female hunter feature is for Stephanie Ray. Here we go!
Stephanie Ray is one of our top female anglers to follow. Learn more about Stephanie and why she loves to share her outdoors experiences that inspire others!
Why do you hunt and fish?
I hunt and fish because I enjoy it! I love the outdoors, the challenge, and the lifestyle. I have a freezer full of venison, rabbit, squirrel, fish, and wild pig that I have harvested myself. Hunting and fishing provide me with time to step away from thinking about work and the crazy world we live in. I enjoy learning from others as well as teaching others. It's crazy to think that I grew up as a tomboy in the city and started hunting after graduating from college.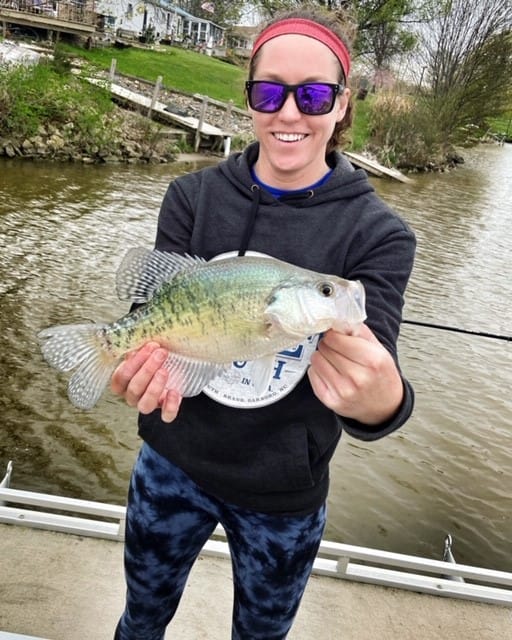 When were your first hunting and fishing trips, and how old were you?
My first fishing trip was before I can even remember! I started fishing for panfish with my Dad as soon as I could hold a fishing pole on our family vacations at the lake I now call home.
My first hunt was a whitetail bow hunt, and I actually connected with the first deer I saw. Best part of this story was that I was completely new to hunting, and my boyfriend at the time kept telling me to "shoot her" while I was concentrating my pin at full draw. We watched the deer drop about 50 yards away, and when we walked up to it, he told me it was a button buck. My response, "what's a button buck?!" In all honesty, this is one of my favorite stories to tell, because I have matured and developed so much as a hunter!
What do you like most about hunting and fishing?
I like both the solitude and camaraderie. I like to learn and make myself better, as well as share my experiences with others. I take pride in providing for myself as well as being successful and learning from my mistakes.
What are your most memorable hunting and fishing experience?
My most memorable fishing experiences are from family vacations fishing for panfish with my Dad and brother. My Dad would wake us up early and carry us through the water to the boat that was tied off past the dock. We would fish all morning, then come back to the cottage we rented and watch him clean our catch. We always had fresh fish dinners while on vacation!
I have so many memorable hunting experiences! I'll go with a recent experience, of my whitetail archery buck of 2019. I had 2 shooter bucks on camera and was waiting for the perfect wind to hunt a stand that I felt would be productive. I had the property owner drop me off at a spot I could sneak into my stand with a good wind, and the 9-point came out like clockwork. I watched him feed for 10 minutes before I found myself at full draw while he was quartering to at 22 yards. I released my arrow and watched him kick and run off with half the arrow sticking out of his side. I was able to track my buck about 75 yards with a great blood trail and recover him less than an hour after I shot him. Knowing that I was patient for the right wind, did my homework, practiced shooting my bow all summer, and successfully tracked my buck, makes me a very proud hunter!
Do you have a favorite wild game recipe?
My favorite cut of venison is the backstrap! I'll cut the backstrap so I can roll it out, season it with Bearded Butcher Blend, garlic salt, salt, pepper, and Worcestershire sauce. I roll it up like a pinwheel, stuffing it with hot pepper cheese and banana peppers. Wrapping in bacon is optional, and if I have bacon, it always gets wrapped! I prefer to cook it in the air fryer on high until medium rare!
Do you have a "dream" hunting excursion?
I would love to travel and hunt out west. Antelope is the most realistic, but elk and mule deer are on my bucket list!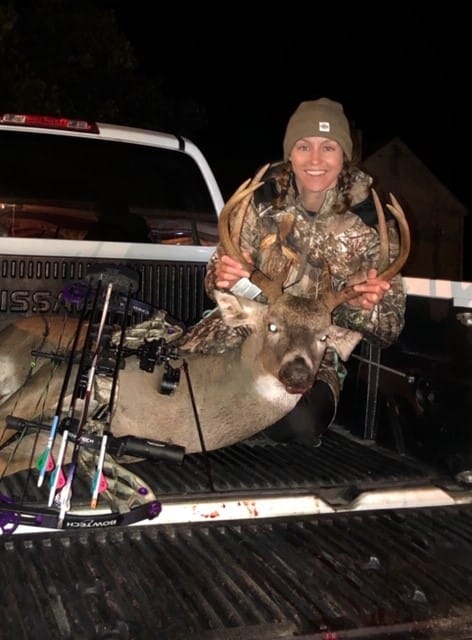 What would you say to other women who haven't tried hunting or fishing yet?
Sometimes it only takes one hunt or one time fishing to appreciate nature and get hooked on the experience and the lifestyle. Being able to provide for yourself and/or your family is very fulfilling. If you aren't successful, don't get discouraged, but look at it as a learning experience. Seek a mentor and don't be afraid to ask others if you can tag along or learn from them. Most hunters and fishermen/women are eager to teach others and get people into the sport and lifestyle!
Follow Stephanie on Instagram…