Winter is coming? No, winter is here. Seriously though, it's been REALLY cold outside. As a resident Floridian, if Fahrenheit hits below 70 degrees, it's fuzzy socks and heated blankets. Snowball fights and snow angels won't get the better of you with these great ways to stay warm. So how do you layer for cold weather? What are the tricks to stay warm?
If you find comfort in being a chronic weather checker, be my guest. Or you could just layer up. Layering for cold weather is an art.
A girl has to know her strengths and I 100% know that being cold is not one of mine. Thus, one must prepare themselves for every situation and that means never being caught without options. Layering is wonderful because if you get overzealous you can just take them off, or put them on. Adding thermal underwear, or "long johns" under your clothes is a super easy and non-bulky way to start.
Depending on how excited you are getting about these layers, you can put on a light undercoat followed by a heavier coat. Many brands have "zip out" inner layers just for this reason. I especially recommend these for kiddos.
Putting double sock layers on can get risky depending on the shoe you are wearing. Make sure you have extra space in those boots to avoid cutting off circulation. The headband or 180 earmuffs under the winter cap, as well as gloves inside mittens, work wonders on a cold day.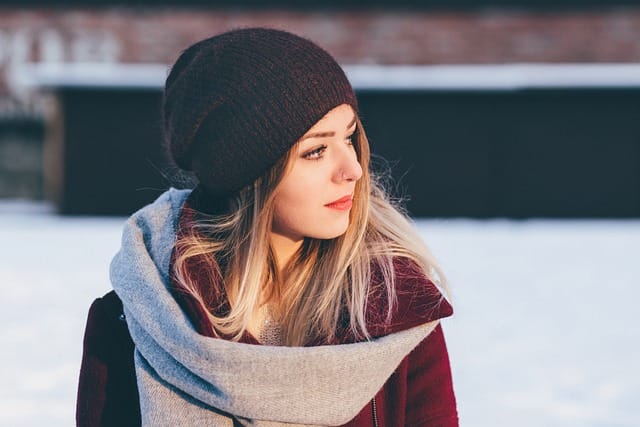 One of the best tricks I've found is not to layer on thick-on-thick because if you overheat you may lose your cool (pun intended). For instance, it is not advised to put two large winter jackets on. This will weigh you down and limit your function.
Don't get discouraged, layering takes practice!
The goal is to be able to adjust to different environments. Ensuring that you have extra caps, hats, socks, mittens, and coats wherever you go provides you with the puzzle pieces to be successful in layering.
Know your fabrics, friends. Choosing insulating options just enhances the layering game. Wool, neoprene, fleece, or down can all be great. Figure out what you feel best in because comfort is key.
Water plus cold air is a quick way to catch a chill. Wearing properly fitting clothes is uber important. Super tight or loose clothes have the opposite effect than we are looking for. Adding an outer layer that's waterproof or a rain jacket under a heavy coat works so the wetness doesn't seep through your layers.
In fact, if you can get each layer to have some sort of water resistance capability as well, that would be ideal. This way, even if you sweat a little because you're moving and grooving in the cold it won't make you colder.
Grab a hand warmer. External heat sources are on my top list of favs. Think hand and foot warmers. They make reusable/rechargeable versions as well. Heating up with warm soup (or booze, age permitting) makes the crowd go wild.
Keeping things moving outside is a sure way to warm yourself. Say yes to a new outside winter sport such as snow skiing, sledding, or ice skating.
No doubt if you use the above layering tricks you will be well on your way to staying warm in cold weather. Bomb cyclones or not, we will adventure on. Stay warm out there!
This post may contain affiliate links. Miss Pursuit may earn a small commission for our endorsement, recommendation, testimonial, and/or link to any products or services from this website. Your purchase helps support our work in bringing you real information about hunting and the outdoors.