Like many home cooks, I've been in my kitchen a lot over the last year and a half. As "lockdown" started here in Dallas, I was ending maternity leave, and still not ready to get back to my usual spot in the kitchen. I watched from the sidelines as the world, and many of my friends began and named sourdough starters. I gasped in awe of their perfectly baked loaves with glorious air pockets and ignored the desire to start my own. Sourdough would have to wait.
In order to bring some normalcy to our lives in those early days, I took to making a daily hot breakfast of eggs, bacon, and canned biscuits. That went on for months until our waistlines started feeling a little tighter. By that time, I was feeling the nudge to get that sourdough started.
I baked a few loaves of sourdough bread, but the perfect loaf eluded me. Instead, I took to making sourdough discard biscuits. It was a perfect way to keep my sourdough fed between bakes and gave me a regular recipe for which to use the discard.
If you haven't yet, but your interest is piqued, I suggest heading over to King Arthur for how to get your sourdough starter going. A little more advanced in the kitchen? You'll want to check out The Perfect Loaf for expert tips.
After a year of baking, tinkering, and figuring out my own darn oven, I think I've found a relatively easy recipe. (However, there is no way around it, you'll need to play with the recipe to see what works best in your kitchen. Dough is finicky that way–once you think you have it figured out, it goes and throws a fit.)
Sourdough Discard Biscuits
Ingredients
1/2 c Jovial Organic Einkorn all-purpose flour
1/2 c organic all-purpose flour
2 tsp baking powder
3/4 tsp sea salt
1 stick cold butter, salted
1 c sourdough starter
1 tbsp whole milk
Directions
Preheat oven to 425 degrees.
Combine flour, baking powder, and salt. Stir.
With a sharp knife, dice the cold butter into small pieces and add to the flour mixture. Cut the butter into the flour mixture.
Add sourdough starter and whole milk. Stir until the dough starts to form. (Note: the milk is optional but it gives the biscuits a nice golden bake.)
Begin to fold the dough by hand, rotating a 1/4 each time you fold. The dough may feel dry for a bit, but it will start to work together and pick up leftover flour and butter back into itself. The dough is ready to cut just before it becomes sticky again.
With your hands, press the dough into a square on a cutting board. With a knife or biscuit cutter, cut biscuits and place onto a parchment-lined cookie sheet.
Bake biscuits for 15 mins.
Remove from oven and butter the tops of the biscuits.
Makes 6-8 biscuits.
Serve these biscuits alongside your favorite wild game sausage or stew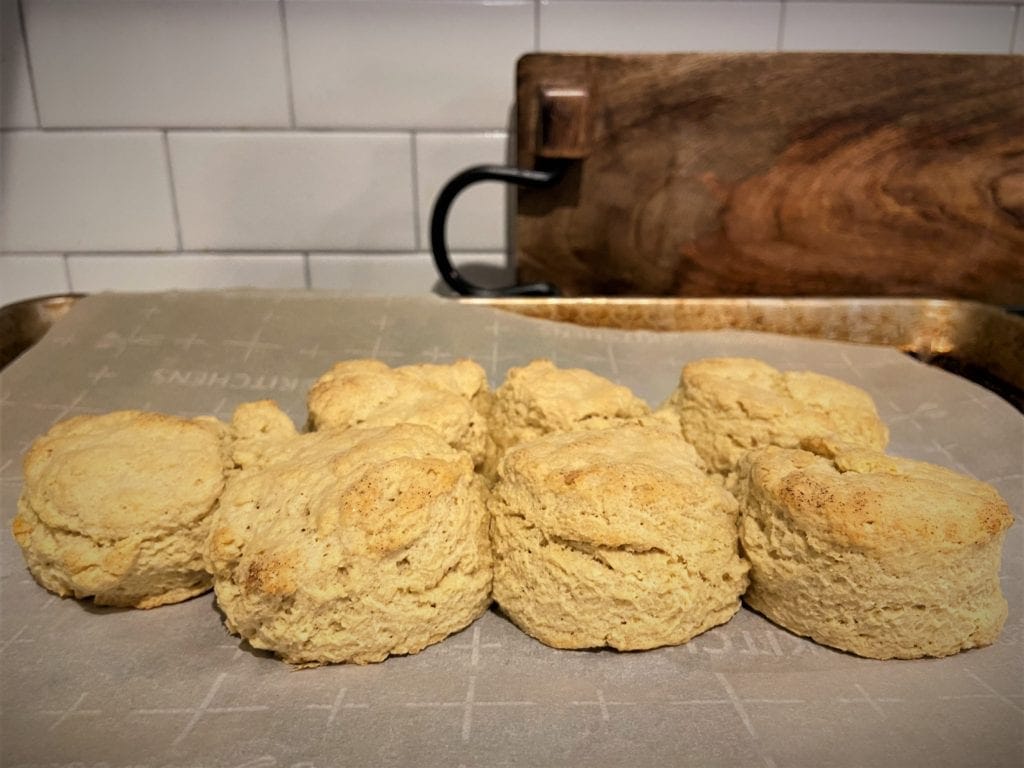 Confession: After a few attempts at bread, I quit trying. I've not baked a loaf of bread in a year. These sourdough discard biscuits hit the spot every time! 
This post may contain affiliate links. Miss Pursuit may earn a small commission for our endorsement, recommendation, testimonial, and/or link to any products or services from this website. Your purchase helps support our work in bringing you real information about hunting and the outdoors.