Tasmanian Tiger is your best bet if you're looking for premium tactical equipment. Their products are made of the very best quality, but also the best functionality. 
Tasmanian Tiger Rifle Bag Review
I recently received the TT Modular Rifle bag. It's a padded rifle carry bag made for weapons up to 40 inches in length. A few features I love:
It has a removable carrying strap. I don't like a strap over my shoulder when I transport my gun, so I removed the strap and use the handles instead.
It has a detachable inside pouch. It's a perfect spot for loading up your ammo to keep with your gun, but also easily removable so you can put it in the truck with you. I try to keep all my gear together when moving my gun, but I also like it all with me in the truck or at the ranch once I get where I'm going. #organized
I must note that I am a total CRAZY lady when it comes to my scope. Like. A. Total. Crazy. Lady. We all know to be careful with our scope, but I take it to a whole other level. With that being said, the Tasmanian Tiger Rifle Bag has reinforced padding on the sides. A little bump or thump won't bother your scope.
The outside also has two separate pockets, each with dividers. Did I mention yet that I like my gear organized? This is yet another space to utilize for gear. This is where I keep my hearing and eye protection.
Tasmanian Tiger Backpack Review
My boyfriend and I have been talking about a "go bag." We decided the TT Modular Trooper Pack is perfect. It's a military/tactical backpack. It has two outer pockets where you can add pouches. What I love the most is that the main compartment opens COMPLETELY. I hate having to dig through a backpack to get to my gear at the bottom. 
I have to note, however, that as a petite woman, it is heavy. Without anything in the backpack, it is already quite a beast of a backpack, however, the back panel can be adjusted to different back lengths.
The amount of storage, pouches, and options for organizing offer you the opportunity to carry whatever you need!
For the go bag, we put the following in our Tasmanian Tiger backpack:
Portable cell phone charger
Sleeping bag
Flashlight – one hand crank and one battery operated
Batteries
Lighter
Knife and multi-tool
A few bottles of water
Nonperishable snacks
Travel-sized personal hygiene items
Cash
Medical supplies – first-aid kit, splint, and a few extra days of my medications
An extra shirt and pair of shorts
Water filters
Printed copies of driver's license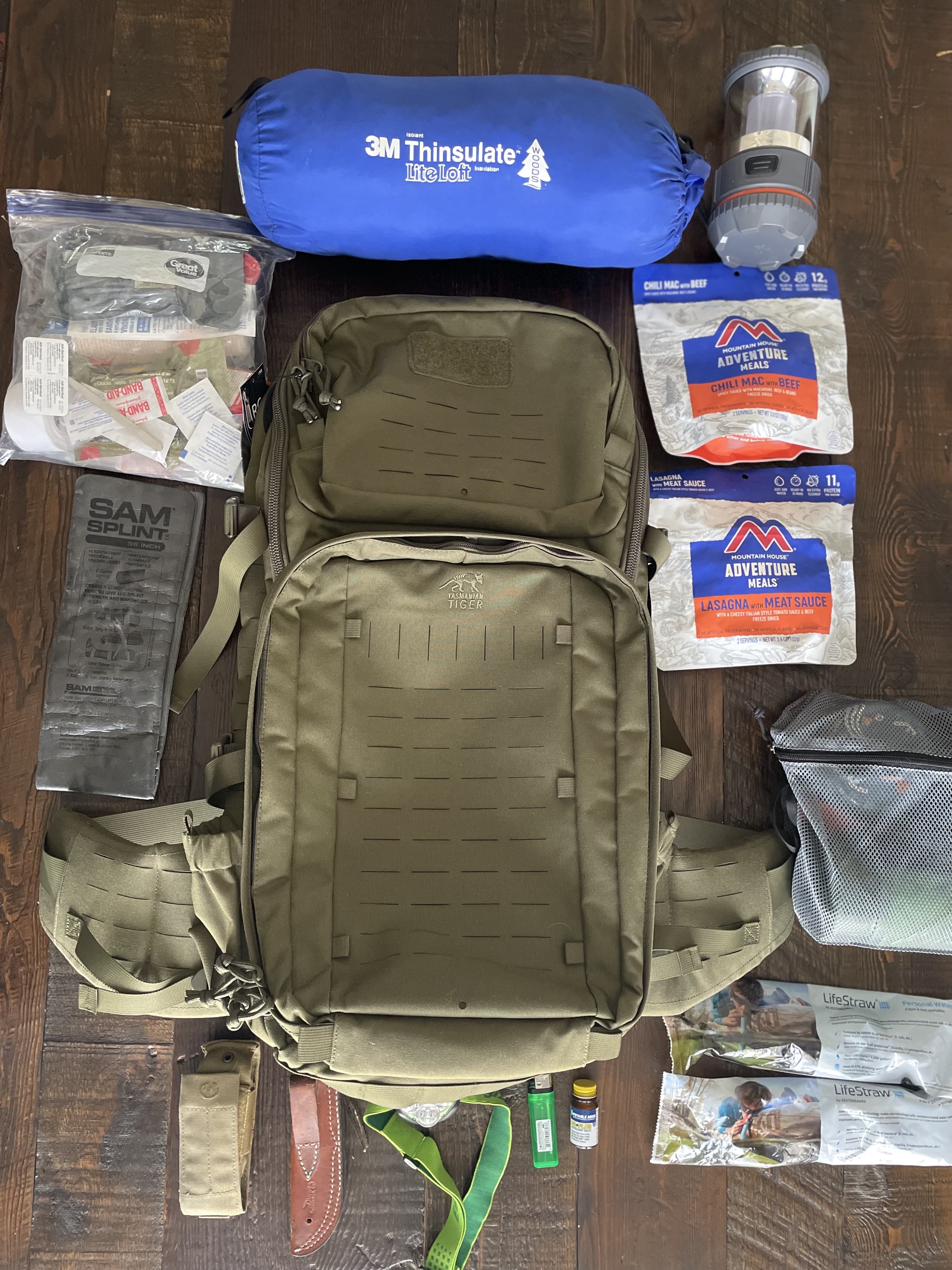 If you're looking for a rifle bag or tactical backpack, Tasmanian Tiger offers quality and functional designs. 
This post may contain affiliate links. Miss Pursuit may earn a small commission for our endorsement, recommendation, testimonial, and/or link to any products or services from this website. Your purchase helps support our work in bringing you real information about hunting and the outdoors.