As I step up to any gun counter, I immediately see myself as little Harry Potter walking into Ollivander's Wand Shop for the first time.  My first thought is that I want to hold every gun behind the counter.  One reason is that I really do love them all, but secondly the gun really does choose you.  These are a few helpful tips to guide you to choose a shotgun.  More than anything, be patient and be willing to ask to hold as many as you want.  You truly will find that one of them literally SINGS in your hands.
Just like in the movie, the wand chooses the wizard.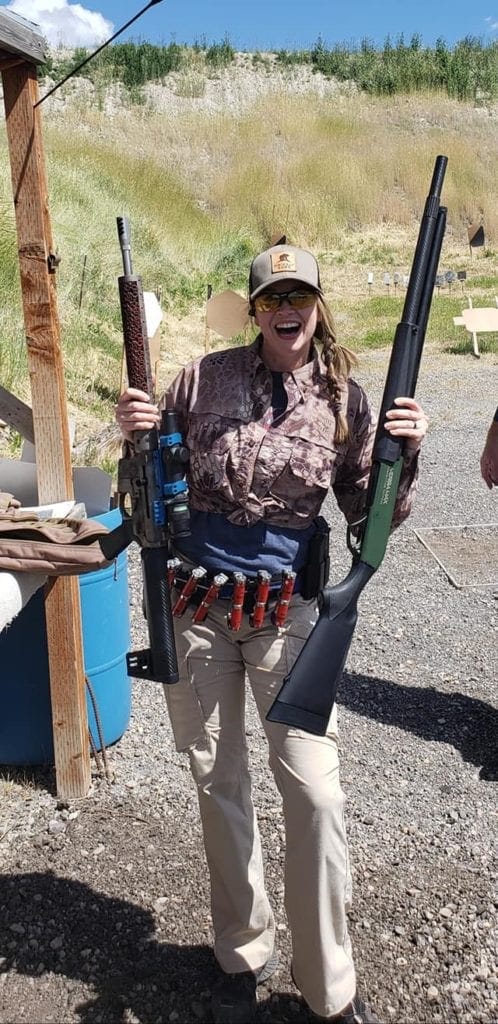 Tips for Choosing a Shotgun
When shopping for a shotgun, there are so many things to take into consideration.  You have to think about what your purpose for the shotgun is.  This means if you are looking for home defense, then you surely do not want an over under.  If you are going for duck hunting and your state regulates that you can only have a max of 3 shells in the gun, then you truly do not want a competition-grade shotgun that holds 8 in the tube.  Once you nail down what you are hoping for, then make sure to set a price point.  There are several really solid shotguns in the lower range, and they work fabulously. 
My first shotgun is a Stoeger m3000.  Stoeger is a division of Benelli and Franchi.  So, I kind of feel like my shotgun is like driving a Toyota whereas the Stoeger is the Lexus.  One day, I will have a Benelli, but I have some saving up to do first! 
When you get the shotgun in your hands from the counter, or your friend if you are out in the field, always do your due diligence and check the action.  Just make this a habit and accidents will not happen.  Once you make sure that the shotgun is clear, pull the gun up and shoulder it as if a clay has just been thrown and you are ready to fire. 
Look down the barrel and check if your cheek found its natural rest against the stock nicely or did you have to play around with your position until you found the sight bead.  Lower the shotgun and do this several times.  You really want a shotgun that comes into place naturally and consistently to make firing shots quickly and accurately when a duck surprises.
If you find your point of aim easily, then while holding the shotgun up (usually high on the wall if you are in a gun store so as not to sweep the staff), then make a motion as if leading a flying clay or bird.  You want to make sure that the weight of the gun is easily manageable.  By the same token, you want to ensure that the length of the barrel is a good match for your frame and what you intend to use it for.
It is true that a longer barrel will offer more shot distance and a slightly tighter shot pattern, but you must make sure that you can follow your target and make clean shots without sagging or getting weighed down by the length of the shotgun.
When deciding between a gauge such as 12-gauge or 20, you will find that there is less noticeable recoil with a 20 gauge.  You do have some trade-offs such as a thinner shot shell with fewer beads inside, so you have less to hit the target with.  This is well worth it though if you are a much better shot with a 20-gauge that is slightly shorter and easier to master mechanics with.
The most important factor to consider once you have selected a shotgun is to practice as much as possible with it.  You still will have small differences, like how the shot will pattern from the gun, for which to train. 
My Stoeger always shoots slightly low with my turkey choke, so I have to consider that when taking aim on a turkey. 
The wand that chose me is a Benelli Super Black Eagle.  I have a savings account building to make that baby MINE!  
Miss Pursuit may earn a small commission for our endorsement, recommendation, testimonial and/or link to any products or services from this website. Your purchase helps support our work in bringing you real information about hunting and the outdoors.