Planning is not something we have ever done well. Generally, all of our big decisions have been a leap of faith. Selling our home and moving to the hunt camp for a life off the grid was absolutely one of these instances. We knew at some point we would like to sell and find a more secluded property but we hadn't really planned out when or where. Last summer, I stumbled upon a 100-acre property with a large shop that had just come on the market. I knew we wouldn't have time to build before winter so the wheels started turning on how we could make this work. Within minutes, I landed on the idea to stay at our camp. My husband had no objections to the idea and so we put an offer on the property.
Long story short, within a week, we sold our home and within two more weeks, moved to the camp. It was madness. 
Everyone usually laughs and asks my husband how in the world he convinced me to move out here. It's a long unmaintained road surrounded by crown land abutting Algonquin Park which is the oldest provincial park in Canada. I have never been one to shy away from an adventure, and here we are 8 months later enjoying this season of life we are in. If we were planners, I probably wouldn't recommend moving to a hunt camp in the Canadian wilderness…right before winter.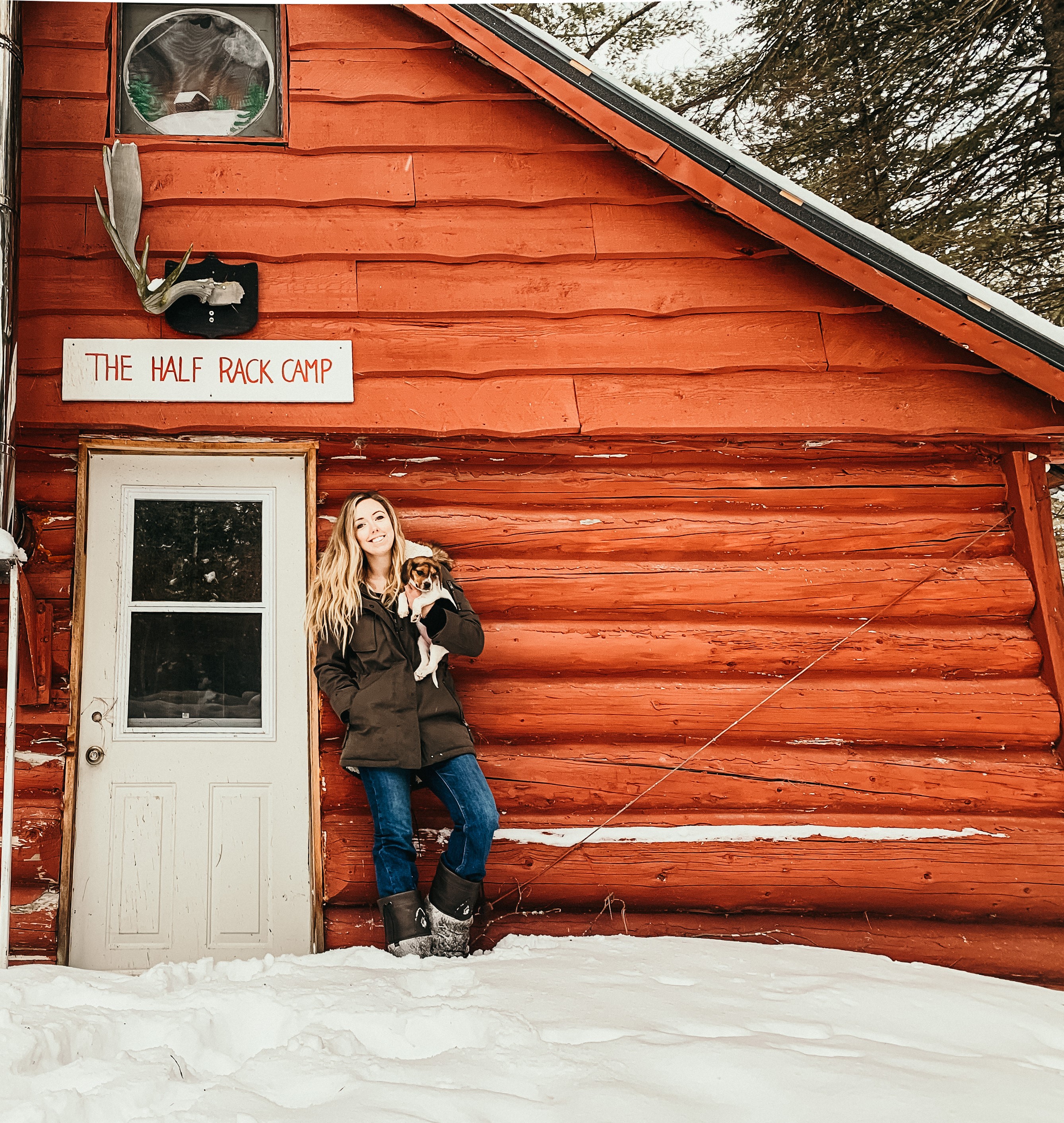 Prior to moving here, the cabin was solely used as a gathering place for hunting during season. We would venture out on the snowmobiles to stay for a few days through the winter but never for a long period of time since there was no running water and minimal insulation. Living here exclusively through the winter was absolutely going to be a challenge and a whole other ball game. With temperatures typically reaching lows of -40° C in the winter, we had A LOT of work to do to prepare. In the midst of getting settled into the camp, we were insulating, digging a water line down so it wouldn't freeze, and stacking wood–a lot of wood. And so so much more. 
Although this may sound like we are "roughing it" to the vast majority, I truly feel as though we have everything we need. We are toasty warm, have wholesome food, and the ability to step out of our front door into the incredible country that surrounds us. Sure, some indoor plumbing would be nice on those incredibly cold days but we will get there. Going back to the basics, with minimal electronics and endless space for the kids to play outdoors is what feels right to me. In a world where kids are glued to their iPads or video games, I feel like despite having fewer modern amenities, the kids have so much more than they ever have. Although they don't realize it yet, they are learning so much out here than most people learn in a lifetime. 
Life Off the Grid
We knew that moving here would be challenging and there would be a learning curve but for the most part we have been able to overcome most problems that have arisen. The camp originally was set up with propane appliances however a large propane leak and not being able to source the replacement part left us leaving it unhooked with no fridge or stove. I learned how to cook exclusively on the wood stove which has been an incredible learning experience.
Another dilemma was that our "road" is non-maintained, meaning we would have to plow the 7 km in and out to the nearest road. With no service and a long windy route, it was always an adventure to see if we could successfully get to the other end without any issues.
Perhaps the most common question we get is how do you deal with no water? Well, it's actually really simple and I am thankful for our military background and extensive time on training exercises. For dishes and cooking, we grab the big jugs of water from town and I heat up the water as needed on the woodstove. For bathing the kids, I do the same and fill up a portable washtub. Thankfully they are still tiny so this hasn't been really any different for them.  We do the same and then we will periodically go to the local hotel to do all of our laundry and have a real shower. Obviously, with the on-set of spring, we will be able to change up a few things and set ourselves up more efficiently because the water will be fed directly from the river.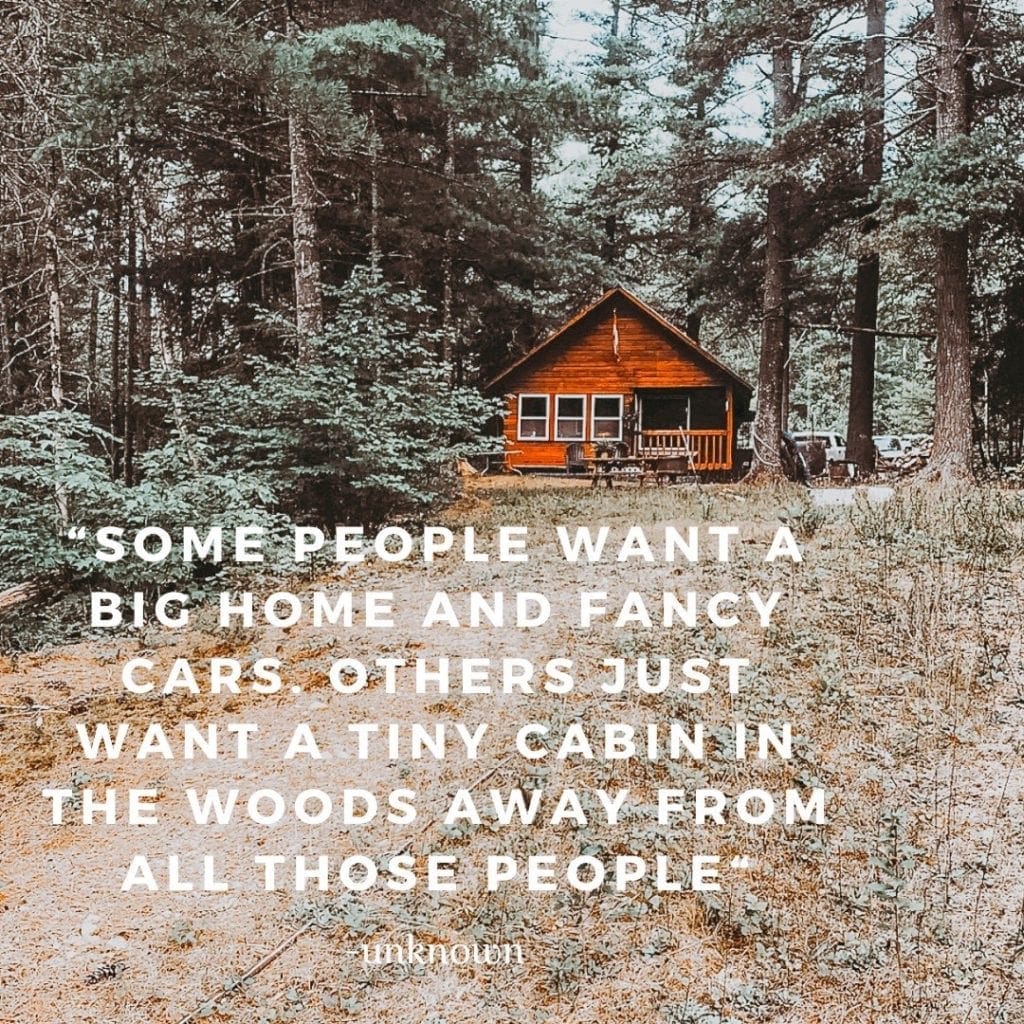 I realize that this lifestyle is strange to many and envied by even more. It's not for the faint of heart but my goodness is it ever rewarding. The skills that I and the kids have learned over such a short period of time are incredible. We do hope to build in the near future but with the current state of the world and inflated lumber prices, we aren't sure when that will be. For now, we are happy and comfortable where we are. 
Do you wish for a life off the grid?
This post may contain affiliate links. Miss Pursuit may earn a small commission for our endorsement, recommendation, testimonial, and/or link to any products or services from this website. Your purchase helps support our work in bringing you real information about hunting and the outdoors.