How do you shoot a shotgun like the pros? Here's a tip… practice, practice, practice. And then practice some more! But before you practice you need to be comfortable with your shotgun. Don't worry about getting the latest gun on the market. Find a gun that fits your size! For women, that may involve trying a youth model or getting a custom-made gun.
There was a time I wanted to go dove hunting. I borrowed a shotgun, got a box of dove shot, and headed to my dad's property. I had not shot a shotgun in quite a while, as I used a rifle most of the hunting season.
I went to the field, shotgun in hand, vest full of shells, and in my mind, I thought, "Dove breast for dinner, let's do this thing!" I loaded a shell and didn't get the hunt started off well. I about pinched my thumbnail completely off!
While doves were flying in and out, I was also trying to remember not to shoot to my left and pepper my dad. A dove flew over and I shoot.
Clean miss.
Daddy yells, "He was a little too far, sis."
Another flies in I take another shot. Miss.
The third time's a charm, right? Wrong!
I miss it again.
I'm not claiming to be an expert dove hunter. This was only my second time ever hunting dove. That was several years ago and my Dad has since passed. But, he had so much fun laughing at me trying to shoot those birds. We ended up shooting a lot and not hitting much. We only got two doves that day. "Not even enough for dinner!" The experience was one I'll never take for granted.
After the adrenaline wore off, I sat down after a long day of shooting and looked at my arm. It was bruised from the inside of my bicep all the way up to my shoulder! Why? Did I know the shotgun was heavy? Yes, but it was really too heavy and way too long for me. I paid the price for not properly holding my gun.
I have since found my favorite shotgun and have been on several bird hunts.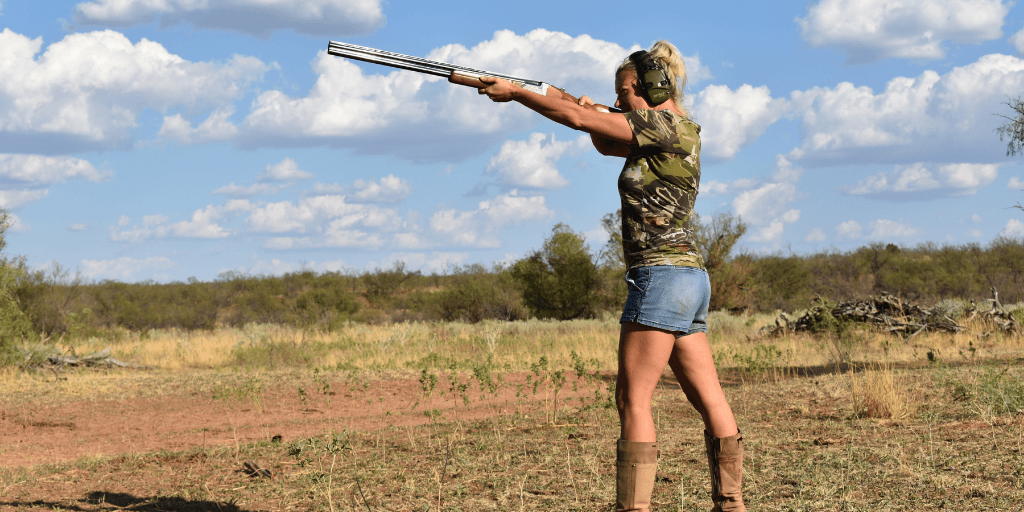 Tips for Shooting a Shotgun
Find someone who is willing to help fit you with a gun that is right for you. Go to your gun store to try out different guns. Hold it up to your shoulder, swing it as if you're in the field aiming at birds, and make sure you are comfortable with how it feels in your hands.
Refresh your gun knowledge. Find someone to teach you how the gun operates, how to hold it, and how to load it.
Practice loading it and shooting properly. When the time comes, you will make good shots, you will be comfortable, and you will not injure yourself or end up with a wounded animal.
Best advice for shooting a shotgun like a pro? Learn your shotgun, get a feel for it, and PRACTICE.
This post may contain affiliate links. Miss Pursuit may earn a small commission for our endorsement, recommendation, testimonial, and/or link to any products or services from this website. Your purchase helps support our work in bringing you real information about hunting and the outdoors.