This post has been sponsored by AmmoSquared. All opinions are 100% our own.
Ammo is so expensive. It seems like you always need it when you either a) are 100% empty or b) can't get to the store. And, as much I love going to the outdoor stores to browse, there just aren't any that close to me when I just need to stock up on a few boxes of rounds. Most of my ammo is for hunting, but I do occasionally shoot my pistol, so between my husband's .270, 9MM, and my .25-06, 45ACP, and .380, there are five different calibers we need to keep handy.
I recently heard about AmmoSquared or AMMO² for short. They are basically an ammo bank account or, let's say, an ammo 401k plan.
How can you change the way you get your ammo? Here are three ways:
1. Set your budget to buy ammo automatically every month. I put $20/month towards my ammo, even though I may only need to purchase it a few times a year. But instead of paying $100+ those few times per year, my ammo "bank account" pools ammo each month. So, when I'm ready, I can just request my ammo through AMMO² to be sent directly to my house! You can also have it set up as an auto-delivery if you're a more regular shooter. AMMO² gives me the ability to budget for my ammo every month (or paycheck). And men- this will keep yo' ladies happy if you stay on budget for your hobbies!
2. Throw out your internet searches for "deals on ammo." Googling for "cheap ammo" or "where to find cheap ammo" is like a never-ending rabbit hole of searches. Now, AMMO² isn't always the lowest-priced ammo you'll find, but its convenience outweighs internet searching. Their prices are comparable to any online retail store and they print the price on the caliber page, the invoice, and your inventory so you always know the price per round you are paying. No shadiness. You can accumulate ammo without getting an immediate shipment which saves on shipping and lets you buy a large amount of ammo over time in small monthly amounts.
3. Ditch the sporting goods store (for buying ammo). As I mentioned earlier, there are not any sporting goods stores super close to me. I live in Dallas, so you'd think I could hop, skip, or jump to just about any place, but unless I go to Academy or a hard-to-find small gun store, the closest big box retailer is about 20 miles from my house. So, whether you're in a big city or rural town, getting it delivered whenever you're ready for it will make your hunting life so much easier! Each box can be packed with a variety of brands and bullet weights, so I can try new brands I can't (easily) find locally! They have over 75 different calibers and 200 variations so whatever you shoot, they'll likely have on hand! You can also buy and have magazines, gun parts, and cleaning supplies you'd already have to buy shipped with your ammo. Shipping is a flat $15 for all orders and FREE for shipments over $250. One less trip to the store!
Want an insider trading tip? They do limit what new subscribers see, so, if you don't see what you're looking for right away, shoot them an email, or go here for an expanded selection. You have to get behind the new subscriber section before you can see all the other calibers they offer.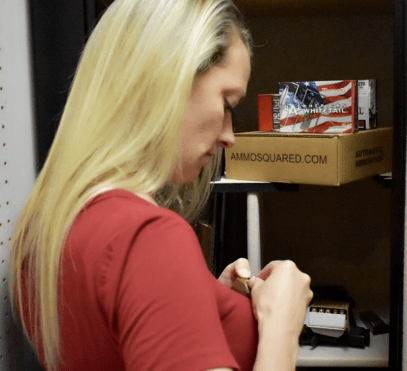 Instead of scrambling the months ahead of hunting season, I've been putting a little bit of money towards my ammo each month and now get my box of mixed hunting and self-defense rounds when needed. I picked my caliber, set up my budget, and accumulated my ammo for when I needed it!
Save money. Save time. Set it and forget it; that's my new ammo philosophy!
SPECIAL PROMOTION: MissPursuit readers get 20% your first order with coupon code MISSPURSUIT
This post may contain affiliate links. Miss Pursuit may earn a small commission for our endorsement, recommendation, testimonial, and/or link to any products or services from this website. Your purchase helps support our work in bringing you real information about hunting and the outdoors.