It was late March in Alabama and much to my husband's delight, canceled plans had freed us from attending an event that had been on the calendar for quite some time. Naturally, this allowed us to devote the entire weekend to chasing Eastern turkeys at Selwood Farm. As always, we began the morning turkey hunt with a flawless plan of attack. We downed our coffee slipped out of the house and headed for a spot that we thought would certainly put us in the heat of the morning action.
The Turkey Hunt
After an uneventful morning followed by mid-day napping, we collected ourselves and headed to a green field on the property for the rest of the day. We call this field the Mountain Field because just beyond the edge of the green beyond the trees there is a huge mountainside. From experience, the other side of that mountain is where most turkeys run to hide, and is also where our property line ends. This field has haunted us many a day watching big deer cross over to the great unknown and hearing turkeys gobble just over the hill. In my mind, this turkey hunt wasn't going to be any different.
We set up camp in a ground blind tucked back in the woods opposite the mountainside. About hour 2 into the afternoon hunt, heat exhaustion, and the early morning wake-up call began to set in for me, and already did for my sleeping hunting partner to the right of me. Nonetheless, I continued to scope out the field, careful not to disturb anything lurking in the woods, or the hornet's nest in the corner of the ground blind, when finally I saw her. Even though it was just one hen, it was invigorating to finally see an animal on the field.
Caught up on the hen, it was almost like a mirage when I saw two mature toms come strutting down over the mountainside. I woke up my husband and his eyes popped with excitement. After a few minutes of enjoying the scene playing out before us, it was time to get down to business.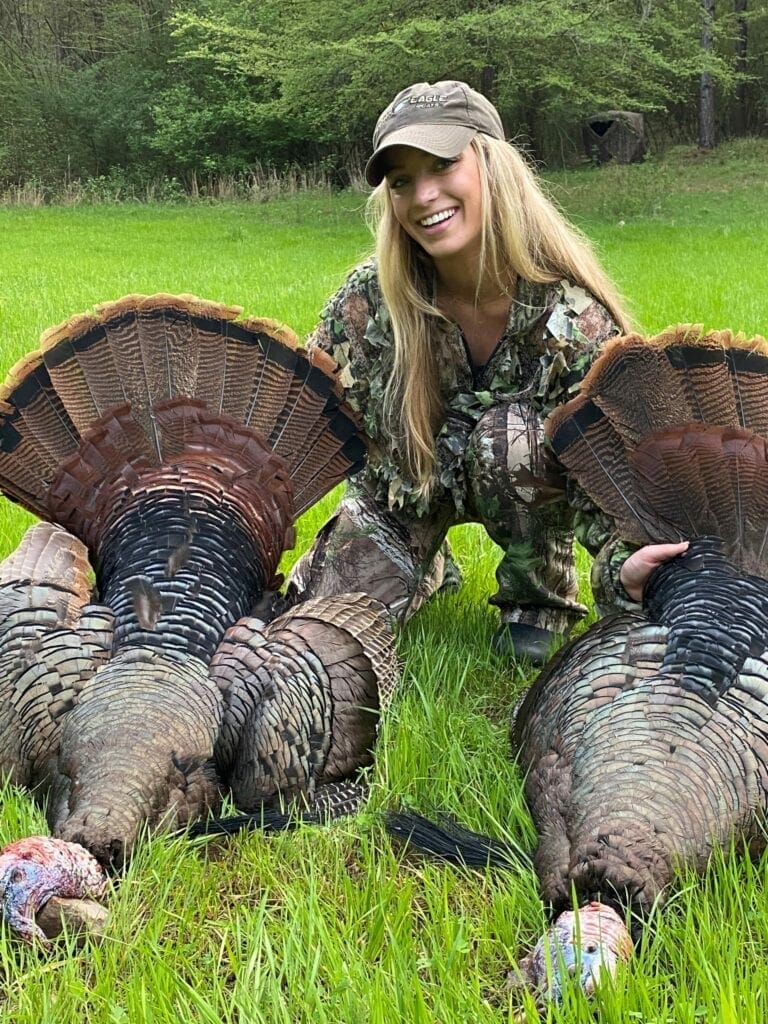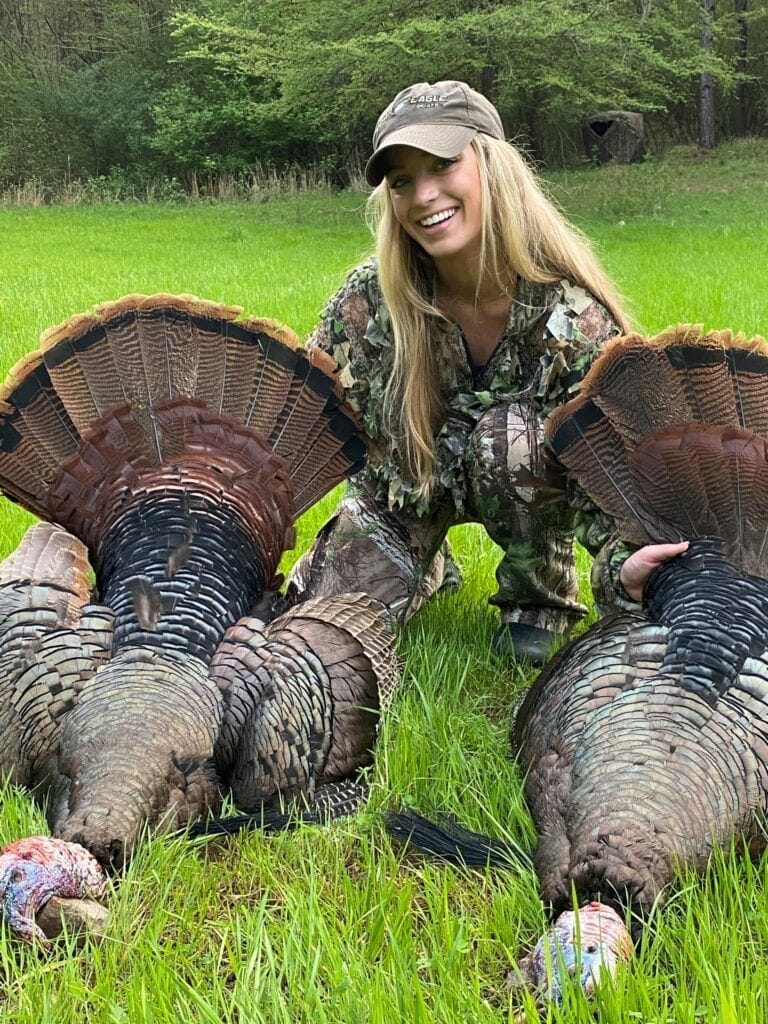 "You gotta pick one!" he whispered with intensity.
He had brought along his old bow in addition to our Benelli Super Black Eagle in hopes we might get a double, but his shooting angle and the position of the birds wouldn't allow him a solid bow shot.
Slowly and steadily I raised the gun, getting the barrel just outside the blind window. I mentally paced back and forth between the two birds, trying to decide which was a better shot and which of the two was more mature. I looked over at Alex to see only burning eyes looking back at me-
"Pick. One!" He said.
Nodding, I chose the bird to my left and in my head spelled out BRASS– Breathe. Relax. Aim. Squeeze. Shoot!
He was down for the count. I couldn't believe it! All I could do was gaze onto the field, not even noticing the other tom and the hen trying to make out of the field like bandits. Alex quickly snatched the gun from me, leaned out the blind window and shot the second tom from the hip. We just looked at each other and couldn't believe what had just happened.
Two birds. One gun. On one hunt.
Pan-Fried Wild Turkey Recipe – Serves 4
Ingredients:
1 ½ pounds of wild turkey meat
1 egg
2 cups flour
1-quart Buttermilk
1 tsp garlic powder
Salt and pepper to taste
1 teaspoon cayenne pepper
2-4 tablespoons olive oil
Directions:
Fillet or pound turkey breast meat into four ½ inch thick pieces.
Soak the turkey in buttermilk overnight in the refrigerator.
When you are preparing to cook, mix all dry ingredients in a shallow pan.
Remove turkey pieces from the buttermilk and place directly into the dry mixture covering all turkey meat evenly.
Turn the skillet on medium heat and let sit for about 4 minutes until hot. Pour in olive oil and place in two turkey breasts.
Pan-fry flour-coated turkey until golden brown and cooked through, turning over once after about 4 minutes.
Served best warm over homemade mashed potatoes, or dipped in stone ground mustard!
This post may contain affiliate links. Miss Pursuit may earn a small commission for our endorsement, recommendation, testimonial, and/or link to any products or services from this website. Your purchase helps support our work in bringing you real information about hunting and the outdoors.