This female hunter feature is for Amy Hall. Here we go!
Why do you hunt and fish?
I hunt and fish because it is innate. There is something within me that drives me into hunting especially. It was later in life for hunting, but fishing was a family thing we did growing up. To be able to do what we do as hunters is a feeling of independence and excitement. Passing it down to my kids has been a whole new level of joy for me! Hearing other people's stories of hunting and fishing has also bumped that passion to another level! Learn, do, and teach – it's the full circle of mentorship.
When was your first hunt and fishing trip, and how old were you?
I remember being a little girl around 6 or 7 and fishing for catfish in the North/Eastern Alabama mountains – family reunions, dirt-field baseball games, skinny dipping, catfishing, cleaning the fish, and eating them. My other grandparents were sailors. We were on their sailboat catching fish when I was under 1. Even though hunting wasn't something I grew up doing, I did grow up in the woods and the country. Nature was something we lived in. My first hunt was just 4 years ago, 100% solo. I was able to harvest a doe that year and it was such a great feeling.
What do you like most about hunting and fishing?
The ability to step out of my crazy life and just slow down. The hard work and preparation lead to such excitement when the day finally comes to get out in the field. It is the icing on the cake when a harvest is a result, but it isn't necessary to have a great day. My favorite days have been days full of observing.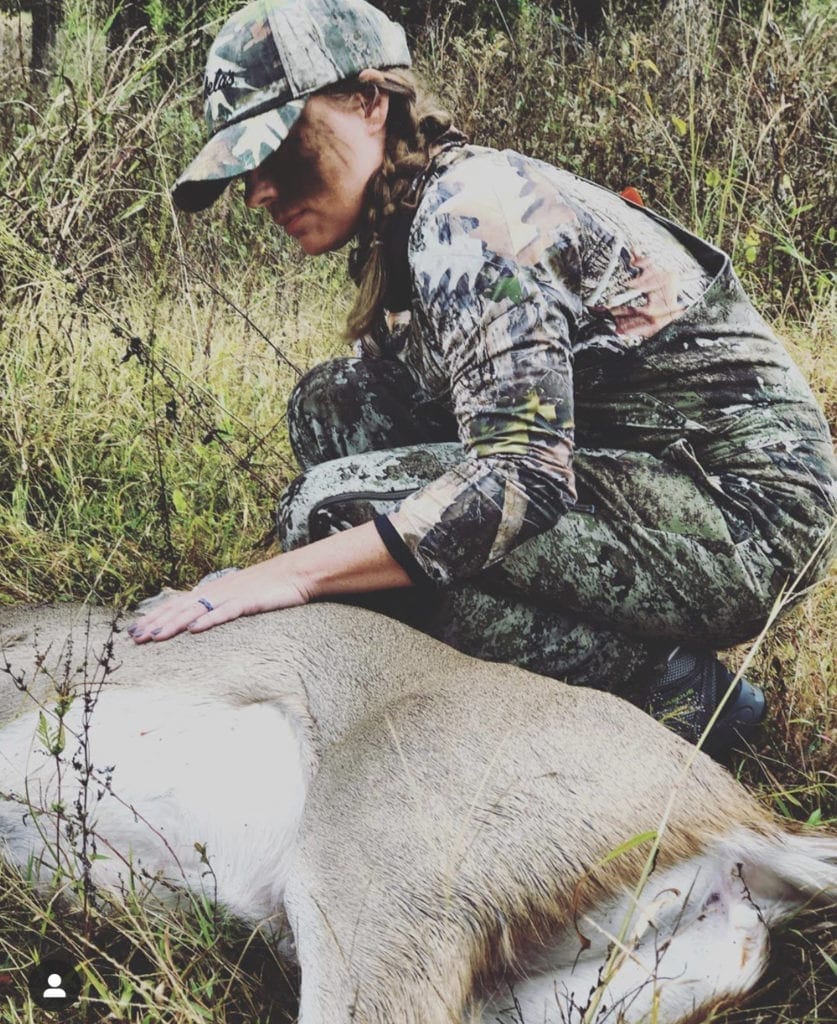 What's the most memorable hunting or fishing experience?
In November 2018, I had an experience with an albino buck. It was a windy day and I thought it was going to be a rough one. All of a sudden, he walked right underneath my stand. It was amazing. He stayed for a good 30 minutes just grazing and moving around me. I enjoyed every moment. I could tell you how it felt and smelled and what the leaves sounded like in the wind. It was a day I'll never forget. As he moved off a beautiful 8-point walked right by that I was able to harvest that day. It was pure magic.
Do you have a favorite wild game or fishing excursion?
I have primarily been a whitetail hunter, but ducks will be added in January. For me, hunting whitetail is difficult and rewarding; they are tough animals to get close enough to shoot with an arrow.
Do you have a "dream" hunt or fishing excursion?
I would love to hunt elk, mule deer, or a ram. The different terrain would be a dream in itself. There are many more but these are at the top of the list.
What would you say to other women who haven't tried hunting or fishing yet?
That answer is twofold. If you have the desire to try it, then try it! Reach out to anyone you know and ask for help. Ask "how do I get started?" And get going! It is more intimidating to start than to be in it. All you have to do is take the first step and look into hunters' education in your state. The second part of the answer is for those who aren't necessarily interested but might have an opportunity … sometimes trying a new thing outside of our comfort zones shows us just how resilient and strong we can be. There is a group of women out there that would love to support you no matter what group you would find yourself in. All you have to do is ask.
If you're interested in hearing more about hunting women, check out my e-book.
This post may contain affiliate links. Miss Pursuit may earn a small commission for our endorsement, recommendation, testimonial, and/or link to any products or services from this website. Your purchase helps support our work in bringing you real information about hunting and the outdoors.