Ice fishing. Do you mean you fish for ice? Well, not exactly. Some of you may not be familiar with this activity that many of us in the Northern part of the country (and Canada) love to do during the bitter winter months. If you are intrigued, let me tell you a little bit about this thing called ice fishing.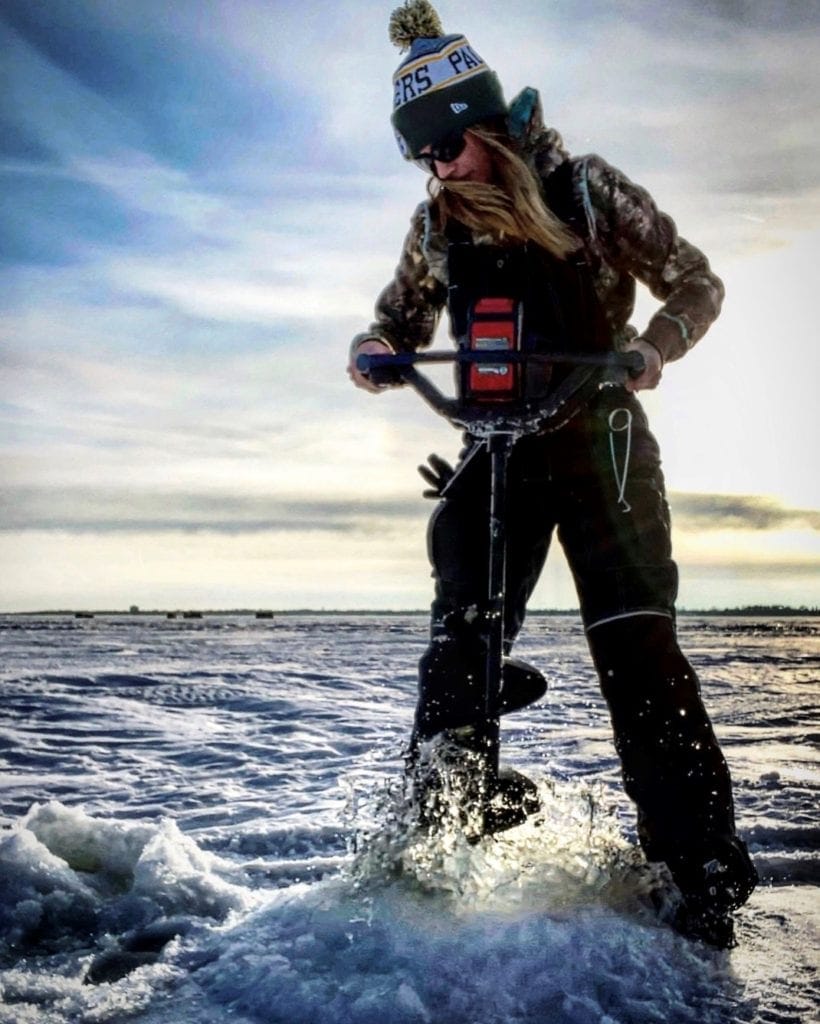 What is Ice Fishing?
Essentially, ice fishing is what it says it is. Drilling a hole into the ice, taking your stick and line with bait attached, and trying to catch fish. But let us start with safety before we get into the nitty-gritty of what you will need. To be able to safely walk onto the ice you need at least 4 inches of ice. In a snowmobile or ATV, 5 inches of ice is necessary. For a car or small pickup, 8-12 inches; a medium truck, 12-15 inches. Falling through the ice is no joke, so make sure you are stepping or driving out onto the ice safely.
What you'll need for ice fishing:
You will need a rod. Ice fishing rods are a bit different from the typical rod you use for open water. Shorter and lighter, these miniature versions of their bigger brothers are compact and easy to fit in a case to take out to your favorite lake. As with their bigger versions, there are many different brands out there, so make sure to review the options that best fit you and the fish you are targeting.
Once you have picked out your rod and have your bait ready to go, there are a couple more decisions you will make before you head out onto the ice. Many anglers fish from ice houses, whether these are pop-up (like a tent) or permanent (like a camper on wheels). If you want to heat in your fish house and you choose to go the pop-up route, you will need to bring a portable heater. Wheelhouses usually have heat already set up in them, but you need to bring a propane tank.
Some anglers (like me) like to ice fish without a house. In my case, I wear an ice suit that stands up to the elements. I also dress in layers so that if I walk out to my fishing spot, I can remove/add layers, as necessary. Sweat is not your friend when it is cold out. When I walk out to my spot, I use a sled to hold all my items (auger, bait, rods, bucket, snacks). If you choose to drive out you can throw all your items in your vehicle, just keep the safe ice in mind and if you are bringing a permanent house, you need to have safe ice for your vehicle and house.
Got all that figured out? Now how in the world do we get a hole in the ice? Years ago, the preferred method, and only method for ice fishing, was a hand auger. Imagine the time and energy it took to get through the ice with one of those! These days there are a few options. You can use an auger that attaches to a drill, gas auger, or battery-operated auger. Of course, the price range with each of these options differs. But, my recommendation to anyone looking for an auger is to go to a dealer and try them out in person. Find one that fits you and you can work. Better yet, find a friend who will let you test theirs out!
Additional ice fishing accessories to consider: waterproof gloves, minnow bucket with bubbler, ice cleats, ice picks, towel, ice scoop, ice fish finder, and snacks.
Answers to your commonly asked ice fishing questions:
What do I need for beginner ice fishing?
For beginner ice fishing, you will need an ice fishing rod and reel, fishing line, bait, ice auger, and an ice fishing shelter. You may also want to bring warm clothing and ice cleats for traction on the ice.
What is the trick to ice fishing?
The trick to ice fishing is to find the right spot with the right depth, structure, and temperature. You can use a fish finder or ask local experts for advice. Once you find a good spot, be patient and keep your bait still.
What are the best baits to use for ice fishing?
The best baits to use for ice fishing depend on the species of fish you are targeting. Some popular options include minnows, wax worms, and mealworms. You may also want to try jigs or spoons in different colors and sizes.
When should I start ice fishing?
The best time to start ice fishing depends on the location and the weather. Generally, you should wait until the ice is at least 4 inches thick and avoid areas with current or recent thawing. Check local regulations and conditions before heading out.
Ice fishing, like any other fishing, takes preparation, trial, and error, and at times a lot of hard work. But, once you start you will be hooked!
This post may contain affiliate links. Miss Pursuit may earn a small commission for our endorsement, recommendation, testimonial, and/or link to any products or services from this website. Your purchase helps support our work in bringing you real information about hunting and the outdoors.