I'm Brittany Young!
Wife to my best friend, Jacob. Girl momma to my daughters, Rylee Anne and Kynlee Ryan. Business owner at Forever Young Children's Boutique. Registered Nurse specializing in Occupational Health. Born and raised in a small town in Alabama. We have dogs, free-range chickens, and a miniature pony. I wouldn't trade anything in this world for my small-town country life, but I am obsessed with traveling and want to see the world.
We have a garden and take pride in our modern-day homestead. I love the outdoors and am passionate about hunting and fishing. I started deer hunting as a young child just as a way to spend time with my daddy, but I developed a love for the sport. My husband has introduced me to waterfowl and turkey hunting and got me my first compound bow this year. I hope to raise my daughters with love and respect for the outdoors and enjoy meeting women with the same passion.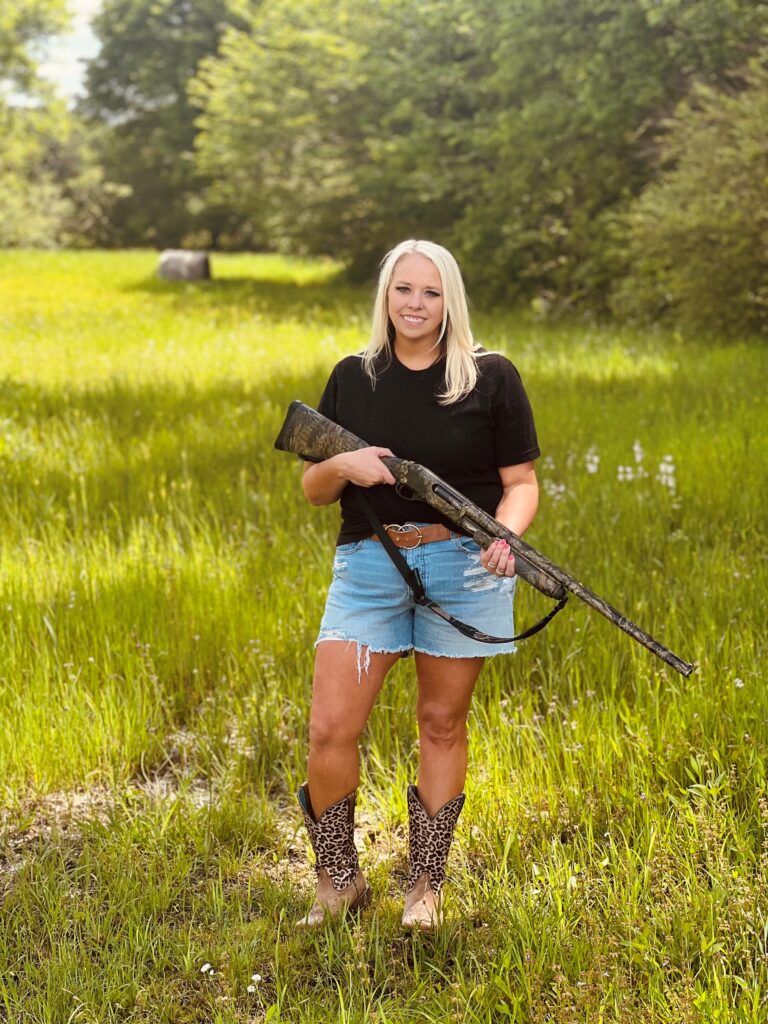 This female feature is for Brittany Young. Ready, set, go!
Why do you hunt and fish?
I hunt and fish because there is nothing like the feeling of being able to provide meals for my family that you harvested yourself through blood, sweat, and tears. I know where our meat comes from, and I greatly respect the animal that feeds us. Hunting and fishing are also my therapy. Being in the woods or out on the water is an escape for me. It's a way for me to spend time and make memories with my family. There is nothing like watching nature come alive in the early mornings or the sunset in the late afternoons. Being in nature gives me a sense of calmness and I enjoy learning new skills.
When was your first hunting memory, and how old were you?
I was probably 8 years old. I have been going on hunting trips with my daddy since I was much younger but on this particular day, he brought me and my younger sister together for the first time and we shared a three-person shooting house. My dad always loaded us up with our favorite snacks and it was the best time.
The entire hunt was filled with mishaps, and it got to a point that my sister and I just couldn't stop laughing and the harder we tried to stop, the worse it got. I thought my dad was going to be so mad about us being loud and disruptive, but he eventually shrugged his shoulders and joined in. We obviously didn't see a single thing, but we made memories that we still talk about. To this day, my dad hasn't invited both me and my sister to hunt with him at the same time, but we laugh about that trip often.
What do you love most about hunting?
The outdoors is my escape from reality. Often times I am without cell phone service, and it truly is a way to unwind and connect with nature. I love to make meals for my family with meat that we harvested together as a family and vegetables and fruits that we grew in our backyard. Above all, I love the memories that I make with my family while hunting, fishing, and being outdoors.
What's your most memorable hunting experience?
I went hunting on the last day of doe season with my husband. Our freezer was empty as far as deer meat went and we really needed a deer. We got a late start, but I was adamant about still going. We had a small child at the time, and I didn't get to go much so even though we were going to be later than we hoped, I wanted to give it a try. We found a spot and got set up just as daylight broke. We weren't there for 15 minutes and she walked right out to where we were. It was the easiest, fastest hunt I'd ever been on. She dropped immediately with no suffering and that is the most successful kind of hunts.
Do you have a favorite wild game recipe?
Jacob's Deer Jerky! My husband makes the absolute best deer jerky and he gave me permission to share his recipe with you all! He uses the hind quarter portion of the deer and it's important to slice very thin. We don't measure out the ingredients; it just depends on how much meat we are using at one time and how spicy we want it. Soak the meat in Worchestire and Dale's sauce, add Stale Cracker's Two-Step Seasoning, minced garlic from the jar, black pepper, brown sugar, red pepper flakes, and chili powder. Marinate for 24 hours and put on dehydrator for eight hours. Be sure to turn every two hours.
Do you have a dream hunting excursion?
Bear hunting and gator hunting are probably my top two dream excursions, but I'd love to do any type of hunting excursion, really.
What would you say to other women who haven't tried hunting yet?
I wore my camouflage jacket to school when I was younger. It was freezing outside, and we all know our hunting gear is the warmest. I vividly remember a boy laughing saying girls couldn't hunt and fish and that I must have borrowed my jacket from a guy. I have made it my mission to not only prove myself in the outdoors but to encourage other females to as well. I hope to inspire women to step outside of their comfort zone and try to do something that interests them. The memories and lessons that can be learned in the woods hunting or on the water while fishing is invaluable. Get out in the outdoors for YOURSELF but it is nice to show that women shouldn't be underestimated.
Tell us your favorite gear. What brands and products do you LOVE?
Treezyn Gear for sure! I love the caps, the Vixyn line base layer, and the gloves.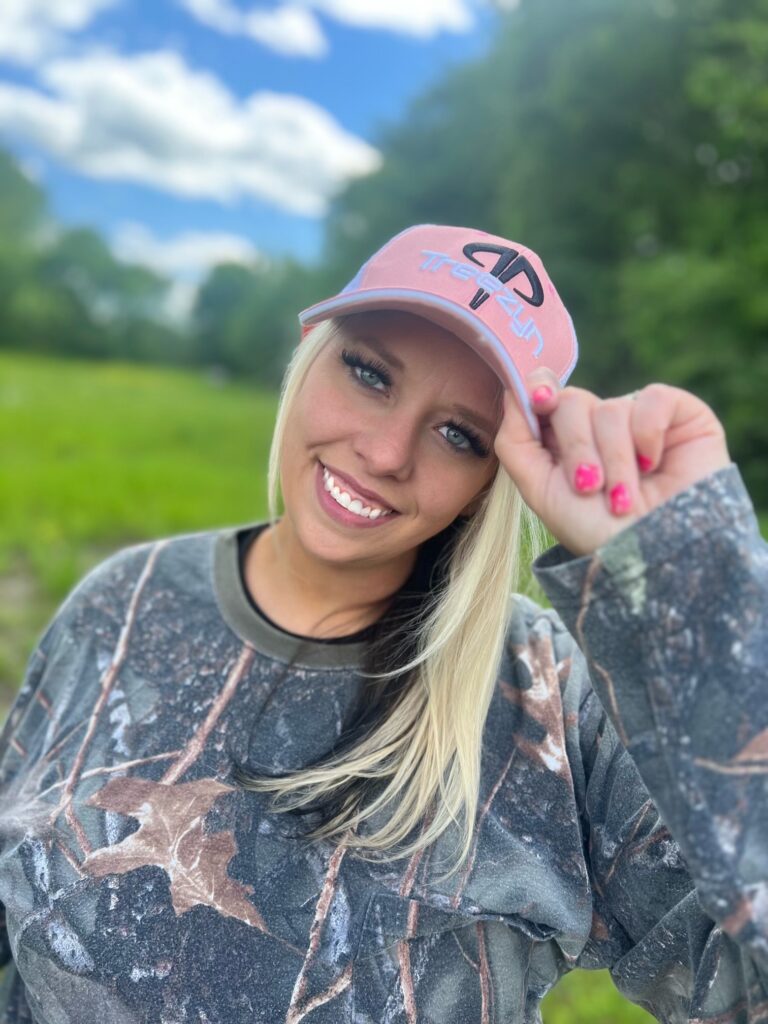 Learn more about Brittany Young:
This post may contain affiliate links. Miss Pursuit may earn a small commission for our endorsement, recommendation, testimonial, and/or link to any products or services from this website. Your purchase helps support our work in bringing you real information about hunting and the outdoors.