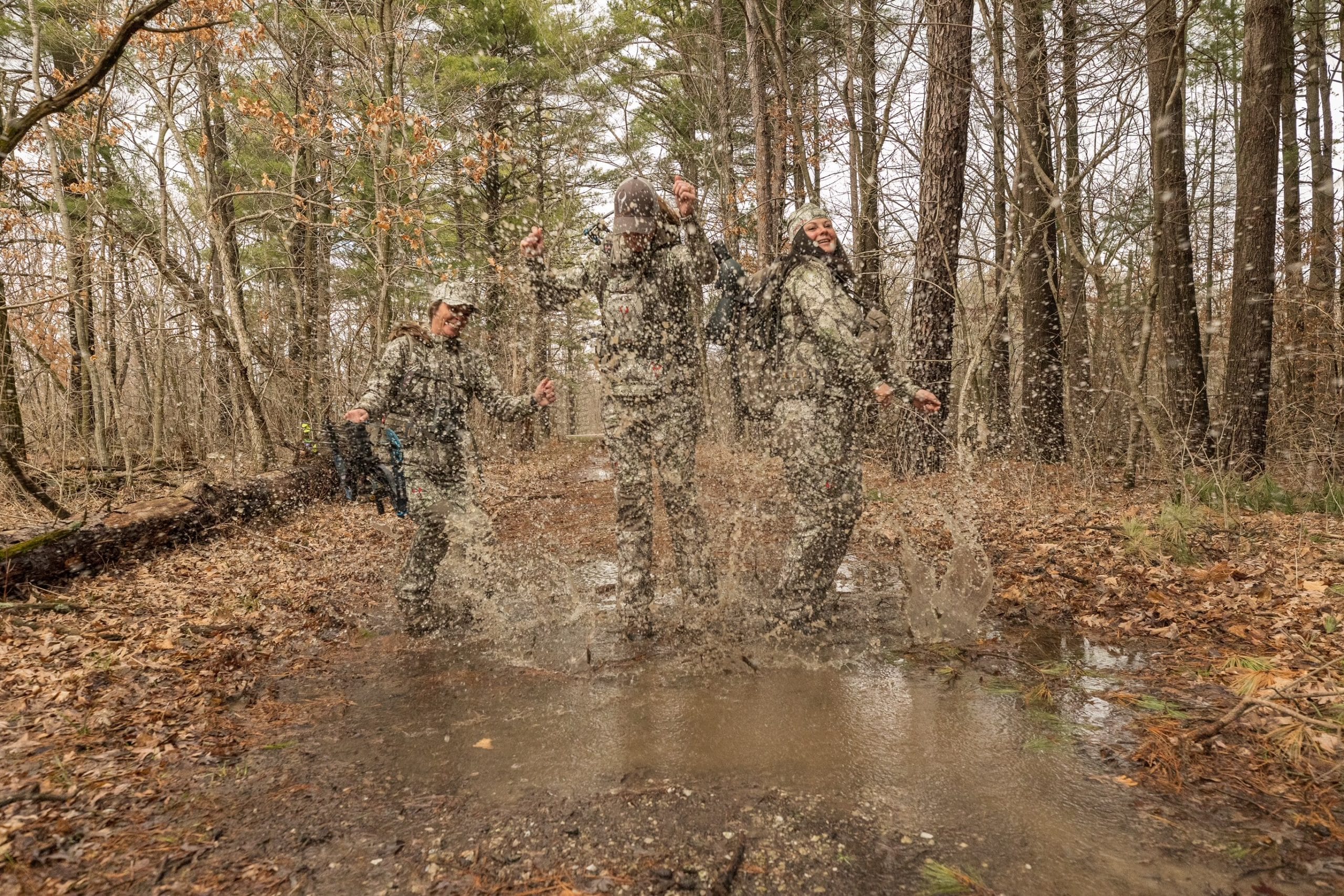 Badlands heard you. And as of now, you're done making do with hand-me-down hunting gear. Badlands has the tough-as-nails, triple-stitched, made-to-fit-you, guaranteed-for-life women's hunting gear you've been waiting for.
At Badlands, we solemnly swear: To sweat the small stuff, so you sweat a little less. To put a big weight on our shoulders, so your load is a little easier. We swear to always be unconditional. Unmistakable. And a little bit crazy about everything you're crazy about. So what's that mean? It means our gear is so well-built, we can cover it by our legendary Unconditional Lifetime Warranty.
This is the guide I've been excited to share all year. It's the hottest topic of conversation.
What is the best women's camo?
When I first came into the industry, I couldn't understand why the topic of women's camo was so…volatile. But as I've learned, with limited availability in big box stores, and only one women's hunting season recognized by retailers, women's camo has been highly inaccessible. Add to that a lack of diverse sizing and low-quality materials, and women's camo has been kind of defunct.
But maybe there's a new wind blowing. As we've noted, over the last two years, women are the fastest-growing market of hunters. It seems camo brands are finally starting to take notice. And we all know that a woman who is warm in frigid temps and doesn't have to hike up her britches every two minutes will fast find a love for this sport. I maintain that new hunters will remain loyal to the camo brand that captures her heart. Whoever clothes her in the field from day one, will have a brand-loyal customer until the day she hangs up her hat.
Women don't have to settle to ill-fitting camo from the men's section anymore. These are the camo brands the Miss Pursuit team wears out on the hunt.
As you might have guessed, our team has all sorts of opinions and preferences when it comes to camo. (If you're unsure what you need when you first set out, check out this checklist.) 
News flash…slapping pink on something doesn't make it women's gear. Badlands spent years making sure their all-new women's gear was the best fitting, highest performing and of course the highest quality gear they've ever built. All covered by their Unconditional Lifetime Warranty. Visit badlandsgear.com.
Prois is a brand I've been paying attention to as they grow. They've recently expanded their line to include an insulated outdoor jacket and hunting bib. Add that to their lightweight gear and Prois covers the range of temps. Their sizing includes XS-XXL. Prois hunting apparel is available at Scheels if you prefer to try on your gear before you purchase.
DSG Outerwear is the shop for all your outerwear needs and fits petite to plus sizes. They carry XXS-5XL in their gear. And I don't know about you, but it's the drop-seat bibs for me. If ice fishing is more your cup of tea, make sure to check out the DSG Avid Ice Fishing Line. But don't limit your search to cold gear! DSG also has great fishing gear that you'll find colorful AND comfortable!
KUIU gear is known for their ultralight gear. Currently, KUIU only has women's down jackets available, but you can be sure these will keep you warm in cold temps and will tuck away when it's time to shed layers. Keep in mind KUIU's reward program to earn discounts and other perks.
Under Armour recently released their new women's hunting line that includes gear with their UA Storm technology. It protects against wind, rain, sleet, and snow. We'd say that's the climate pretty much every day during hunting season.
You may recognize Kryptek from its unique camo pattern. Kryptek's women's line includes pieces to be layered according to the climate. The Dalibor collection was field tested in the Alaskan wilderness, so it has to be warm!
SITKA got it's start because it's founders were fed up with low-quality gear that left them soaking wet. They set out to create gear that met the demands of the terrain. An immense amount of effort and technology goes into ensuring you stay quiet and hidden in the field. Check out the Fanatic System for ultra-quiet warmth.
Other Women's Camo Clothing to Consider
This post may contain affiliate links. Miss Pursuit may earn a small commission for our endorsement, recommendation, testimonial, and/or link to any products or services from this website. Your purchase helps support our work in bringing you real information about hunting and the outdoors.