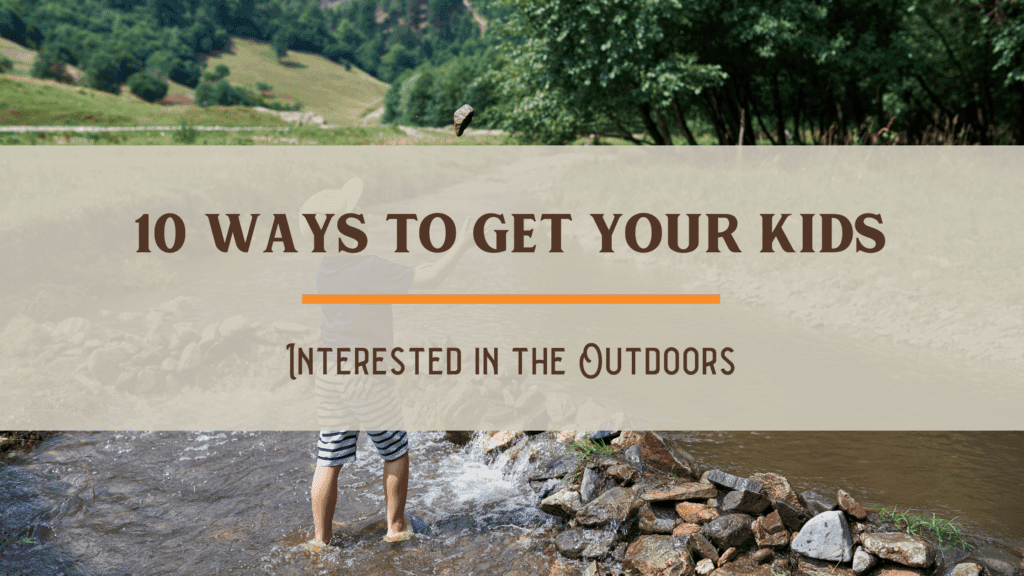 Do you have outdoorsy kids? In what ways do you get them interested in the outdoors? My ex-husband is outdoorsy. In contrast, I, well, I'm learning. It's important to us that our kids spend time in the great outdoors. Now, don't get me wrong; our kids spend plenty of time indoors watching TV, but we like to think we try to be mindful of cultivating a love of being outside.
Here are 10 ways to get your kids interested in the outdoors:
Go arrowhead hunting: Anytime we're at a ranch, we take the kids arrowhead hunting. Have they ever found one? Not yet, but they sure do love trying. We'll challenge them and say, "First one to find a triangle-shaped rock gets the first choice of a popsicle!" or whatever reward we come up with.
Do a backyard shed hunt: We have a bazillion deer sheds we will hide around the backyard. We put them in the trees or hide behind a flower pot. This will keep the kiddos entertained for a good 30 minutes. And in kid time, that's an eternity.
Go on "deer runs": We do these mornings and evenings when we're at a ranch. Hop in a golf cart or go for a walk to try and spot wildlife. The kids (and adults) get so excited to spot a deer, and, even if they don't spot anything, the kids always think they saw one, or we pretend. Talk about getting your kids interested in the outdoors!

Name the animal: Teach them the names of different wild animals, such as whitetail deer, coyote, pig, aoudad, and possum. This will definitely get your kids interested in the outdoors.
Let them tag along for outdoor work: Even in its simplest form, have the kids outside while you do outside work. We helped our friends lay a water line and the kids carried PVC piping with us (no child labor laws were broken, I promise). They can help rake leaves or set up trail cams, anything to get (and keep) them outside.
Start teaching gun safety: Yes, my kids have toy guns and even if I didn't allow it, they'd find a stick or something else to "shoot." While they are younger, fostering a safe understanding of guns can in return foster a love of hunting and the outdoors.
Play two-legged bird dog: When your kids are old enough to tag along hunting, but not ready to shoot, let them be your two-legged bird dog. There's nothing more fun than when mom or dad shoots a bird and the kids get to run out to fetch it.
Make meals with game meat: Our kids love asking what meat we're eating. "This hamburger is beef, which is a cow! This bacon is pork, which is a pig! Oink oink. Our spaghetti meat has venison, which is deer!"
Let them color: Use animal coloring sheets or printables to teach them about animals. We have some for FREE that you can use!
Go fishing or hiking. Just get outside.
How does your family spend time outdoors?
And, if you're looking for more information on getting your family outdoors, check out my e-book!
This post may contain affiliate links. Miss Pursuit may earn a small commission for our endorsement, recommendation, testimonial, and/or link to any products or services from this website. Your purchase helps support our work in bringing you real information about hunting and the outdoors.