I attended a Women In The Outdoors (WITO) mentored whitetail bow hunt through one of the New Jersey chapters of the National Wild Turkey Federation (NWTF) last year. One of the panel discussions reviewed what hunting gear the experienced ladies carried each and every time they went out hunting. I added a few items to my solo female adventurer backpack after that.
I don't carry a purse anymore but my backpack is loaded with everything but the kitchen sink and I even carry several hygiene options.
I would consider my adventures and hunts pretty urban, so keeping that in mind I'm rarely over a mile from some sort of civilization. The only exception to that is when I hit one of the large wildlife management units (WMU) near me for antler hunting.
Below is a list of the hunting gear currently in my backpack every time I venture out on my solo hunts and adventures.
I am rarely, if ever, in the company of another person on my outings.
Cell phone fully charged
onx app installed and tracking
Hunting & fishing licenses
Headlamp with a full battery
Handgun with a loaded clip
Knife set with gut hook blade and processor blade
Game bags
Game calls
Bow release
Safety harness belt
Rope
Emergency blanket: the silver compact type
Extra gloves and socks
Tissues
GoGirl Female Urination Device
Hygiene wipes
Small snacks
Water bottle
Sim card reader for trail camera card
Extra batteries for trail camera
Pen to fill out harvest card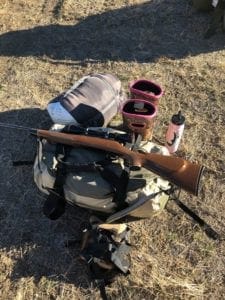 What hunting gear is in YOUR backpack?