As our news cycle, grocery store shelves, and casual conversations are ransacked by COVID-19, infection rates rise and international restrictions tighten. Normal people across the globe attempt to find the middle ground between mass hysteria and gross negligence. In the wake of closed entertainment facilities, canceled gatherings, restaurant bans, and gyms, many have found the importance of simple pleasures such as outdoor recreation and other aspects of normalcy. We have been forced to reexamine what we consider essential for our health, safety, and well-being, what we may have taken for granted, and what we may be okay living without even after this fades away.
As we experience cabin fever, exhaust the Netflix catalog, and run out of cabinets to reorganize and furniture to refinish, many are seeking curve-flattening recreational alternatives, turning to a refuge sportsmen have long been acquainted with: the great outdoors. Most areas do not currently have restrictions against safe and distanced outdoor recreation and spending active time in the sun and open air can help to combat the woes of cabin fever. In fact, a minimum of 10 minutes daily of outdoor activity has long been considered integral to maintaining a healthy mind and body.
Acceptable, social distancing outdoor recreation and activities:
Hiking
Perhaps the most obvious and universally enjoyed facet of outdoor recreation is hiking. The most casual of hikes can require little to no forethought or equipment, while more advanced excursions serve as conditioning for some of the most extreme athletes on the planet. Hiking provides an excellent opportunity for people of all fitness levels to gain stamina and endurance while chasing inimitable views and the sense of accomplishment that comes with every summit. As gyms continue to close their doors in the name of public safety, hiking is a welcome alternative to maintain physical fitness while boosting endorphins and decreasing the risk of heart disease.
While certain national parks and thru-hiking trails have been closed due to the coronavirus outbreak, many have begun to reopen. Chances are there is a lot of opportunity for local – and less congested – public land access in your area. Avoid crowded trails where safe distancing cannot be observed, and take your dog, your camera, or last year's hunting boots that still haven't quite broken in for a walk. Get out there and multitask – this is also an excellent time of year to observe birds and other wildlife, find deer and elk antlers and witness the green renaissance of spring.
Rockhounding
Rockhounding is the recreational study and collection of interesting rocks and minerals. As any kid with pockets full of gravel will show you, the term "interesting" is quite subjective in this context, and as such rockhounding is a widely accessible and enjoyable outdoor activity for all ages. Different regions boast different mineral compositions, with stateside treasures ranging from petrified wood and fossilized material to precious stones and metals. With a bit of research on state laws and geology (I recommend picking up a book here), public access sites and dig areas are easy to locate and require very little equipment for the casual rockhound. At-home alternatives include gold panning or purchasing bags of sapphire gravel. You can wash and sift through the gravel with simple tools such as screens and tweezers with the same chance to discover garnets, sapphires, topaz, hematite, and other stones as you would at the mine itself.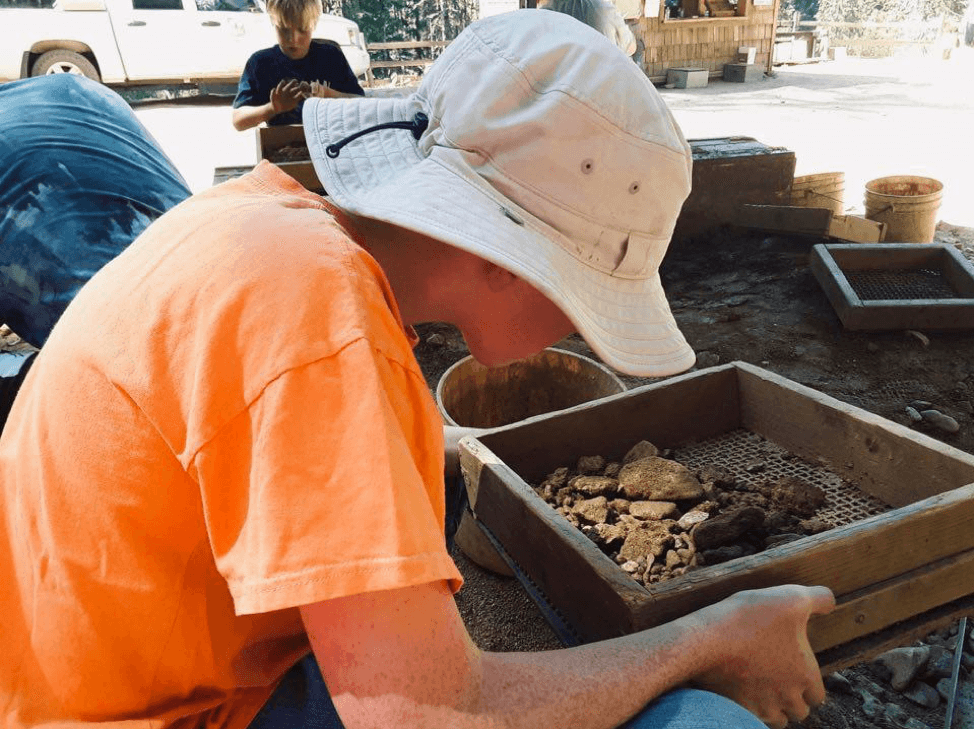 Gardening
April is the perfect time to begin outdoor gardening in many regions. Take a page from generations past and plant a victory garden. Victory gardens were first established during times of war to prevent food shortages and boost a sense of community by working toward a common goal. By 1944, over 20 million victory gardens produced more than 40% of all fruits and vegetables consumed in the United States. Victory Gardens have seen some revival in recent years, and provide an excellent opportunity for a first foray into areas of self-sustainability.
Bicycling
Perhaps one of the greatest silver linings I've been able to find in the midst of this pandemic is the marked increase of families I've seen riding bicycles together. A family bike ride carries more significance than meets the eye. For children, a bicycle represents freedom; for adults, it serves as reliable transportation and a channel for nostalgic reminiscence of a simpler time. Experiencing the world with your loved ones, rather than simply watching it, provides new depth to relationships and tightens familial bonds. Factor in the added positive physical and cognitive effects for families who cycle together, and I could think of a few better ways to spend an afternoon.
One final point I would like to stress is maintaining responsibility regarding the areas we choose to visit during this time. It is easy to discount the importance of doing our part to flatten the curve, but our individual behaviors carry weight and our mindfulness and consideration of the wellbeing of others is key for minimizing the danger for immunocompromised loved ones. I am by no means encouraging fear-driven hysteria, rather the opposite; an increased level-headed conscientiousness is powerful in any emergency situation. Remember that certain outdoor areas pose a greater risk than others. In fact, such a huge influx of people all flocking to popular trails while attempting outdoor social isolation – together – has caused many national parks to close until further notice. When you choose a location to practice outdoor recreation, exercise common sense and maintain a safe distance.
Do not let fear trap you inside, but do not let carelessness trap others. Be smart, take a deep breath, and go play outside already!
This post may contain affiliate links. Miss Pursuit may earn a small commission for our endorsement, recommendation, testimonial, and/or link to any products or services from this website. Your purchase helps support our work in bringing you real information about hunting and the outdoors.