My name is Jennifer Danella. I'm from Pennsylvania. I am an enthusiast for all things outdoors. My dad introduced me to the outdoors through fishing at a young age. When I was in high school, I asked him if he'd take me hunting. Ever since that day, I've been hooked.
Hunting and fishing now take up my entire life. I also enjoy hiking, camping, cooking, and of course, spending time with my pups! I guess you could say I try to be a jack of all trades when it comes to the outdoors. I will try any type of hunting, but turkey hunting is my absolute favorite! A major part of hunting for me is getting to watch my dogs work. I have beagles that hunt rabbits and a lab that fetches ducks and works pheasants. My bond with my hunting dogs is so strong. They are family to me!
Today, I try to use my social media pages to be a role model for young women by showing that women can be an asset to the hunting community through skill and knowledge – without flaunting themselves. It's all about keeping it real!
This female hunter feature is for Jennifer Danella. Here we go!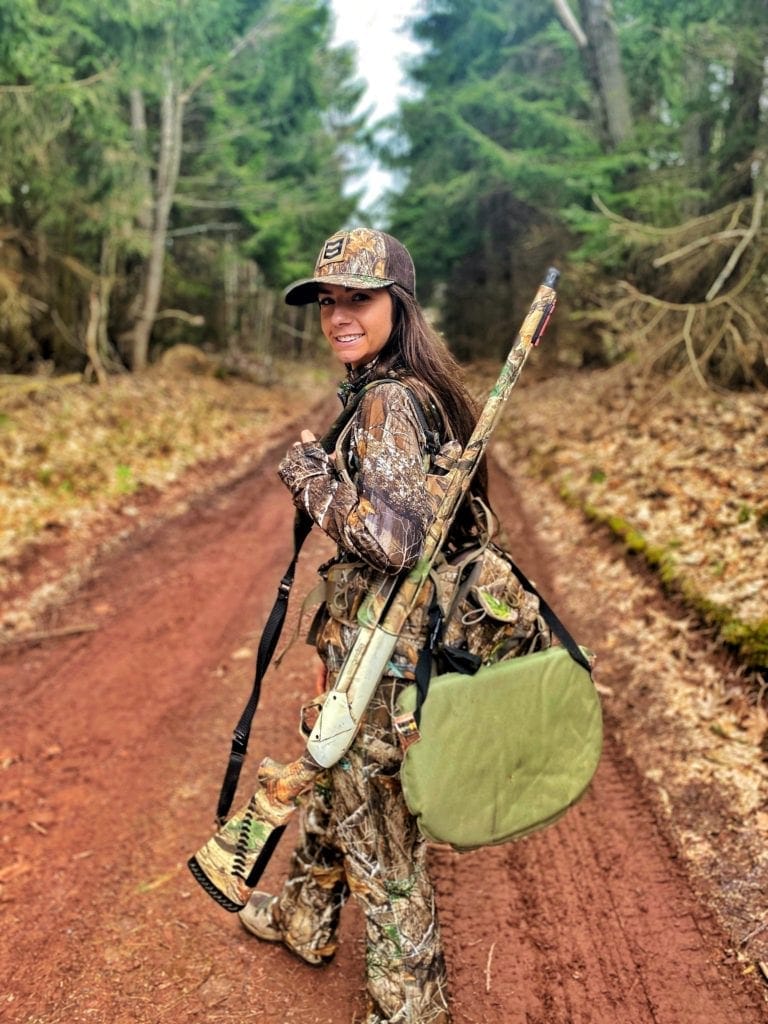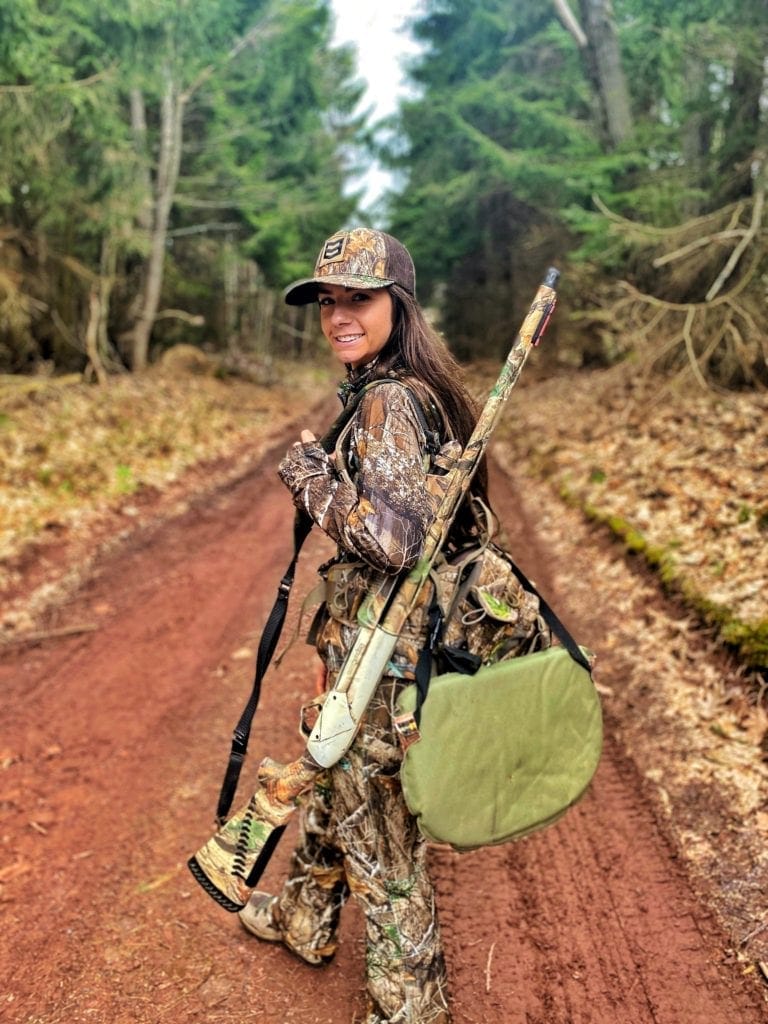 Why do you hunt and spend time outdoors?
This is the easiest question to answer, yet so difficult to put into words. Hunting for me provides a sense of accomplishment. I get to put meat on the table through my own means. Even the non-successful hunts always leave me wanting more, or wondering what I'll see next time I am in the outdoors. Getting to just relax, and watch nature do what nature intended… it can't beat it! The field-to-table lifestyle is also an important part of conservation efforts. 
When was your first hunting or fishing trip, and how old were you?
I was fishing at a very young age but did not start hunting until I was in high school. I remember asking my dad if I could tag along. So I got my license and we took our beagle out rabbit hunting on a small piece of public property. We didn't see a single rabbit, but it was an awesome day and a start to one of my favorite hobbies! I'll never forget that day, everything just felt right!
What do you like most about spending time outdoors?
I love that I can hunt and fish and make memories with family and friends. Hunting has also taken me to so many beautiful places in the world. It makes me feel so alive and so at peace.
What's your most memorable hunting experience?
There are so many beautiful memories made in the outdoors year after year that it's hard to pick just one.
My first bow kill may have to take the cake. It was October of 2017 and my first season hunting whitetail with a compound bow. I climbed into my stand excited just to be outdoors. Right as prime time began to hit, I saw an eight-point to my left. He was on the move and not stopping. Thousands of thoughts were going through my head. Out of sheer luck, the buck stopped to eat 40 yards away in front of me. I ranged him and knew it was a "far shot" for my first time, but I felt so confident. I drew back, anchored, and released. He ran 50 yards and crashed. I immediately called my boyfriend and was so excited I couldn't even form sentences. Ever since that moment, I have been completely hooked on bowhunting!
Do you have a favorite wild game recipe?
So so many! I am currently writing a wild game cookbook completely dedicated to wild game dishes! Smoked turkey breast injected with BBQ sauce and covered in BBQ rub is hard to beat! It's so simple, yet the flavors are out of this world!
Do you have a "dream" hunting excursion?
It would be easier to name hunts that wouldn't be a dream. Elk, moose, and caribou are all on the list. But, I really have a desire to go axis hunting. Their fur looks so beautiful and I hear it is one of the most delicious meats on the planet!
What would you say to other women who haven't tried hunting or spending time outdoors yet?
If you are considering trying to get involved with the outdoors, there is no better time than the present! More and more women are joining and it's great to see. I encourage them to ask someone if they can join them on their hunt just to see what it's like. You need to experience it yourself, sometimes more than once to get a true feeling for what the outdoors is all about. 
Follow Jennifer Danella!
This post may contain affiliate links. Miss Pursuit may earn a small commission for our endorsement, recommendation, testimonial, and/or link to any products or services from this website. Your purchase helps support our work in bringing you real information about hunting and the outdoors.