Jennifer Yarbrough is a wife and a new mom, as well as a dog mom. She lives in the Midwest and hunts anything in season. She has a full-time job, but her 5-9 is being a mom and hunting… whether for land management for deer, scouting for turkeys, hanging out underwater looking for fish, calling ducks, or looking for sheds. She and her friends created a YouTube channel called Passionate Pursuit Outdoors. She enjoys learning new methods, hunting new species, and teaching new people her craft.
This feature is for Jennifer Yarbrough. Enjoy!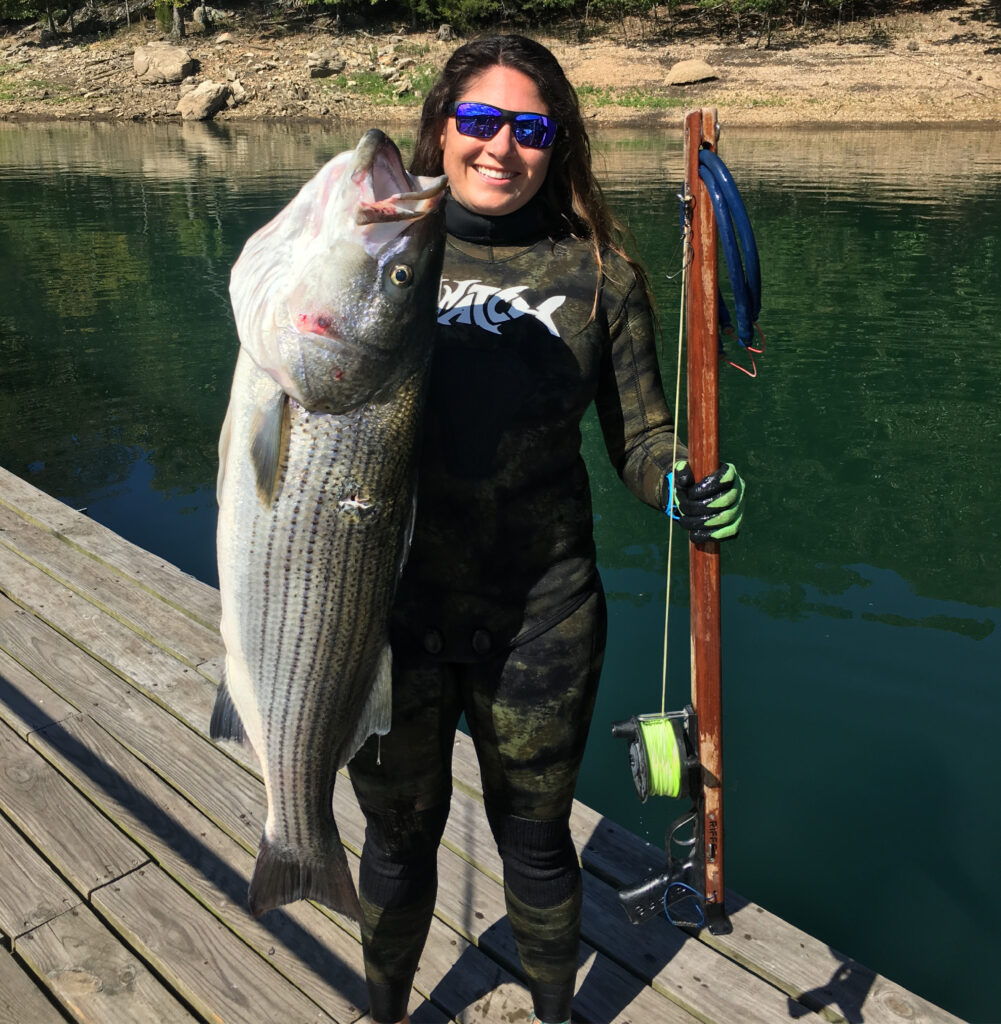 Why do you fish?
I love spearfishing because it is equally parts relaxing and exhilarating. You have to be stealthy, smart, relaxed, and selective in order to have a successful hunt. The fish aren't too bad to eat either!
When was your first fishing memory, and how old were you?
I fished some with my dad when I was little, but it wasn't until I moved to the Midwest that I was introduced to hunting and spearfishing. I was 21 years young.
What do you love most about hunting and fishing?
The thing I love the most about hunting and fishing is the primal aspect of it. It really connects me to nature. By being part of the environment and bringing home food is just an added bonus.
What's your most memorable hunting and fishing experience?
Every experience is memorable which is why my walls are covered in dead things. I'd have to say hunting freshwater striper at 50' on a single breath of air is the most memorable followed closely by my archery buck.
Do you have a favorite fish recipe? Include a link or recipe!
My favorite thing to make is fish nachos. Prepare yellowfin tuna as you would for a poke' bowl with all the fixings – except the rice. Fry won ton skins and use those as the "chips." Line a cookie sheet with the fried skins, and top with prepared tuna chunks, green onions, sriracha, sushi sauce, etc. Get your best buddies and enjoy fish nachos!
Do you have a dream hunting excursion?
I dream of a lion hunt with my bow.
What would you say to other women who haven't tried hunting yet?
This is the beauty of social media – reach out to people you'd like to hunt with! Visit your local archery shops and tell them your aspirations. They may be able to connect you with some local people! Join the Quest Hunt Co tournament. It's a great way to connect with other serious whitetail hunters!
Tell us your favorite gear. What brands and products do you LOVE?
I started using my husband's Badlands gear last year when I was pregnant and I LOVED it! I'm so excited that they launched a whole line of women's gear!
Make sure to follow Jennifer Yarbrough.
Follow Jennifer on Instagram.
Follow Jennifer on Facebook.
Follow Jennifer on YouTube.
This post may contain affiliate links. Miss Pursuit may earn a small commission for our endorsement, recommendation, testimonial, and/or link to any products or services from this website. Your purchase helps support our work in bringing you real information about hunting and the outdoors.