My name is Joni Marie. I was born and raised in Alaska. I grew up in a very outdoorsy family, with a father who was a Master Guide and Outfitter and a bush pilot. Our family ran a commercial fishing site, so I grew up in the mud and the fish slime, working outdoors on the ocean, and I developed a strong love for nature and being outside. My husband and I owned/operated a large indoor archery range and Pro Shop/Store in Anchorage, Alaska for 7 years until I fell sick with a rare disease and we were forced to sell and relocate to Arizona to be closer to medical care and specialists in my disease.
Despite the struggles that I go through with the disease destroying many of my internal organs like my lungs, kidneys, esophagus, heart, and circulation; I continue to be an avid bowhunter and outdoorswoman and refuse to let the disease "win" by stopping me from what I love. I have taken 26 big game animals with my bow such as brown bear, black bear, moose, deer, goat, zebra, kudu, alligator, wildebeest, oryx, javelina, ostrich, hogs, and more.
I currently own and operate a women's lifestyle activewear company called Rockstarlette Outdoors. I design/draw all the logos and patterns myself and have an amazing team of 33 outdoorswomen from all walks of life who represent our brand and company motto: Encourage. Inspire. Empower. I personally believe that a candle loses nothing by lighting another candle. What I mean by that is that it takes absolutely nothing away from you when you support others and lift them up. A few years ago I received the Diana Award from Safari Club International Alaska which was a true honor, for my work in getting more women and youth involved in hunting and the outdoors. Other hobbies of mine include anything that has to do with my bulldog, Moose, who has an amazing, larger-than-life personality, making crafts from furs, feathers, and bones from hunts, photography, art, riding my Harley, and 4-wheeling.
This Female Hunter Feature is for Joni Marie. Here we go!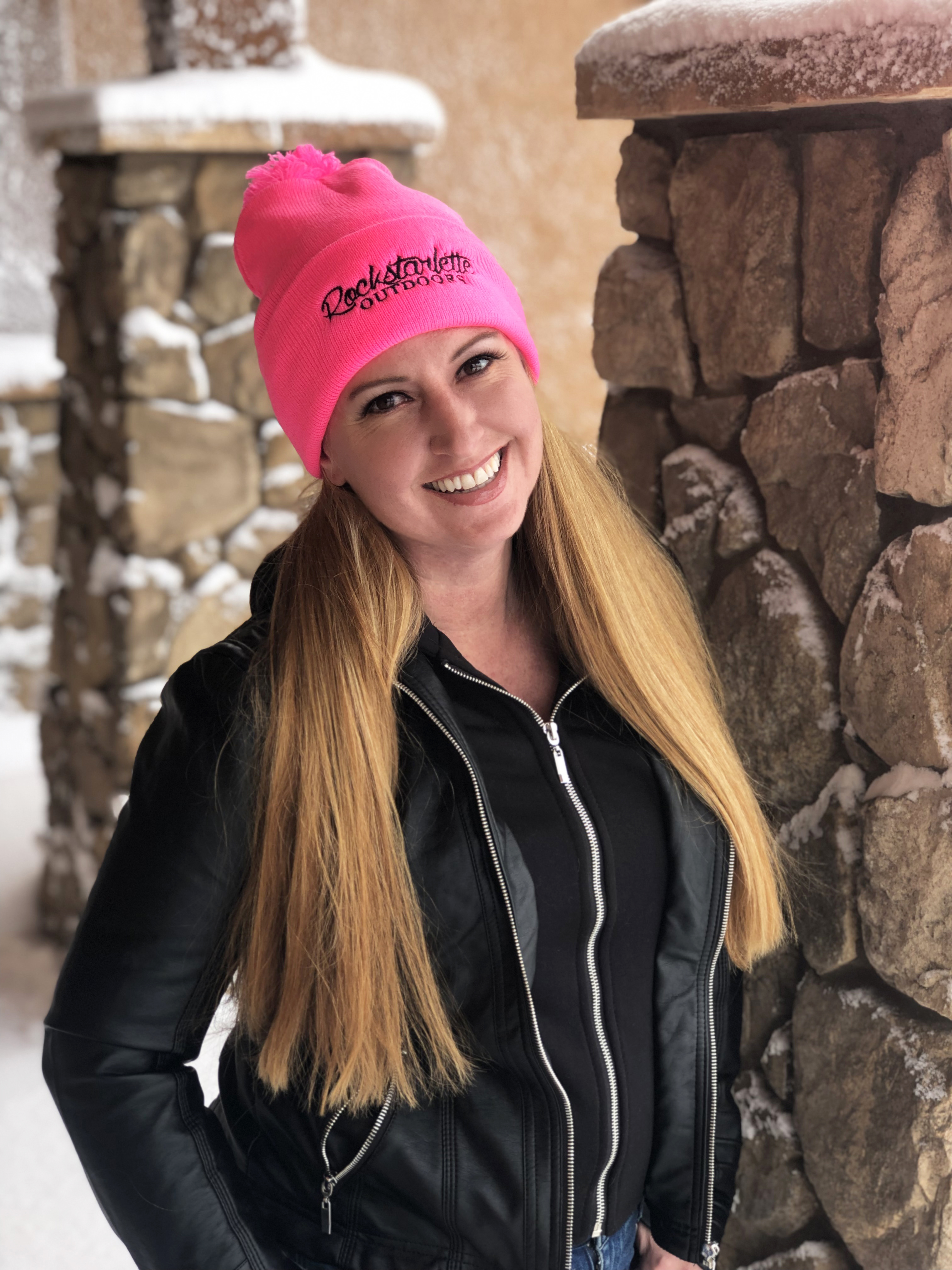 Why do you hunt?
I'm an avid bowhunter. I never was a gun hunter. I bird hunted some as a kid with a gun but once I got into bowhunting I was hooked and never looked back. I love the challenge of bowhunting, of having to stalk in close to your game, and the challenge of various species and terrains. I do a lot of spot and stalk hunting (vs. tree stand or blind). I've taken 26 big game animals with my bow, as well as a whole lot of small game too. I recently completed training on long-range precision rifle shooting for a TV show which was something that I never in a million years thought I would do. I was very much out of my element. It was fun and new! In the future, I may try some rifle hunting for coyotes as well!!
When was your first hunting or fishing memory and how old were you?
I'm not sure what my first memory of hunting or fishing was. I started very, very young, coming from an outdoors family. My father was an avid hunter and we traveled a lot in his bush plane in Alaska to hunt and fish. I was raised on a commercial fish site in Alaska so we were fishing as early as I can remember. I have fond memories of ptarmigan hunting with my dad as a kid and fishing in remote locations we would fly out to. My father passed a few years ago – so any memory with him is deeply cherished.
What do you love most about hunting and spending time outdoors?
I love the connection with nature and with God in the outdoors. Bowhunting, fishing, hiking, and exploring outdoors is so relaxing and helps me to unwind and refocus.
What's your most memorable hunting experience?
It is hard to say what my most memorable hunt was. Personally, I would say either my archery alligator hunt because it was spot and stalk on land and was very dangerous and intense; my archery brown bear hunt because I was a new bowhunter then and became only the 6th woman in history to take a brown bear with a bow; or, possibly my zebra archery hunt because it was on my bucket list and I had just been diagnosed with a rare autoimmune disease that was very serious. I was really emotional to get to fill my bucket list despite battling the illness! However, I would also say that I've had some wonderful memories hunting with others, teaching and coaching, and getting to be there for their first-ever harvest! There is something truly special about getting to share that moment with someone.
Do you have a favorite wild game or fish recipe?
I grew up on moose meat and it is still my favorite wild game. I love moose chili, moose roast, or stew, and jerky! I have a collection of my favorite recipes as well as recipes from the ladies on staff at Rockstarlette Outdoors.
Do you have a dream hunting excursion?
My bucket list bow hunt is New Zealand red stag. I made a bucket list of bow hunts a few years ago which included Alaska brown bear, zebra, alligator, and red stag. I've been able to know the first 3 off the list and just have red stag left! This year I was booked for a women's group bowhunting trip but it was cancelled. We are currently rescheduled for 2022. Hopefully, I will still get to go!!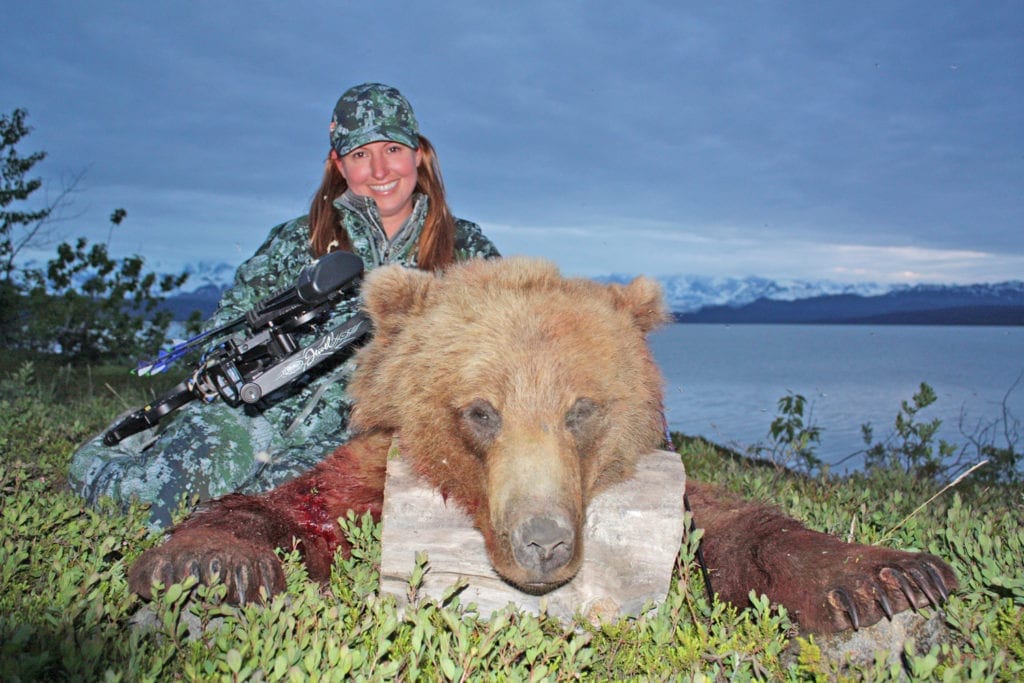 What would you say to other women who haven't tried hunting or spending time outdoors yet?
Everyone is a beginner at some point; don't let that intimidate you. Find women who love to encourage and empower other women in the outdoors and have them mentor you to get started! Through my company, I've hosted about 20 women's group adventure trips. These have included everything from bowhunting in Africa to a group black bear hunt to camping and fishing adventures in Alaska. I love getting women involved in the outdoors and showing them why it's something I am passionate about! There are lots of other groups like Rockstarlette Outdoors that host these kinds of events/hunts/adventures! Get yourself connected and treat yourself to an adventure. You will never regret the time spent out outdoors!
Learn more about Joni Marie!
Visit Rockstarlette Outdoors.
Follow Rockstarlette Outdoors on Facebook.
Follow Rockstarlette Outdoors on Instagram.
Follow Joni Marie on Facebook.
Follow Joni Marie on Instagram.
Read more of our Female Hunter Features here!
This post may contain affiliate links. Miss Pursuit may earn a small commission for our endorsement, recommendation, testimonial, and/or link to any products or services from this website. Your purchase helps support our work in bringing you real information about hunting and the outdoors.