Bear hunting with dogs is our bread and butter. Over the years I have developed a list of items that I carry with me, always. The main difference between bait sits and hunting with the hounds is that there is never a guarantee when you'll be home. So, I always like to be prepared. Your main responsibility is the safety of the dogs. The hunt is over when the last dog is back in the truck. A day with them could be anything from a nice leisurely walk through the hardwoods or it could be an all-day walk through swamps, and up hills all while battling the unruly mosquitos, black flies, and deer flies.
The uncertainty of how the day will go is what makes this type of hunt even more thrilling.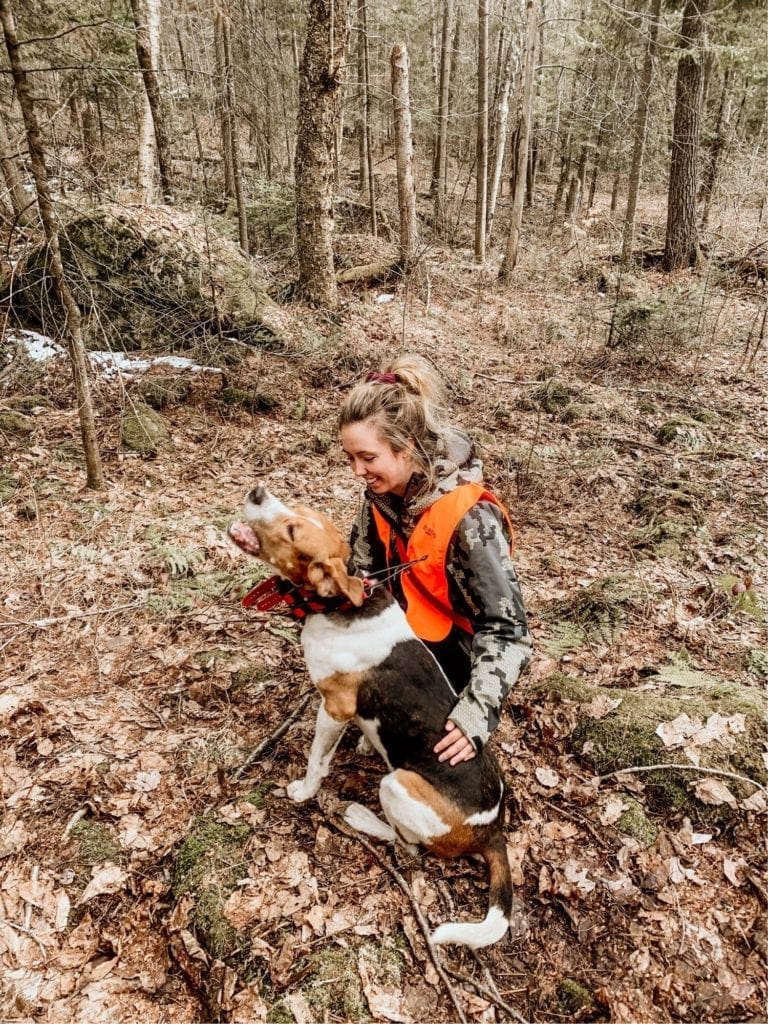 Packing for a Bear Hunt with Dogs
What to wear:
Light, long-sleeve shirt, and pants: I just purchased a pair of Sitka Cadence pants. They are by far the best-fitting, breathable pants I have tried. 
Hiking boots: Be prepared for a long walk in the woods. I have tried every style of footwear from rubber boots to running shoes. But, I still go back to the tactical boots that I wore in the army. They are light and flexible and if they get wet, will dry quickly. 
Bug suit: Most times walking to the tree, the bugs are bearable, as long as you keep moving. But once you stop, the bugs, especially in the spring, attack every square inch of skin. This is when you'll be thankful to have that bug suit, regardless of how cool you look in it. My favorite is from Lefebvres Source for Adventure in North Bay, but you can find good ones at any outdoor specialty store.
Hunter orange: Wear a vest and hat at a minimum.
On you or in your pack:
Snacks/ Lunch: They are pretty well on the top of any of my gear-hunting lists.
Water: Pretty self-explanatory. 
Knife: My preferred way to bring out a bear is to skin and quarter it, so having a sharp knife is essential. My favorite is the Havalon Piranta and be sure to carry extra blades as well.
Bug spray. Always.
First aid kit: For you and the dogs.
Dog leads: Once the bear is treed, you'll need the leads to tie the dogs back and walk them back out to the truck. 
Flashlight/headlamp: Your hunt could turn into an all-night affair very quickly and being caught in the dark packing out a bear or walking miles into a bear tree is no fun and potentially an accident waiting to happen (if you are clumsy like me!).
As with any hunt, your pack list would change drastically between various regions. For us, our terrain consists mostly of thick underbrush varying between coniferous and deciduous trees, swamps, a base elevation of 550ft with elevation changes of up to 500ft, and lots of rock on the Canadian Shield. A day in the woods here is quite diverse and I have found packing these essentials is crucial for me. Everyone has their own preferences but this is what I have developed as my go-to.
What essentials do you pack for a bear hunt with dogs?