Hunting clothes and gear for women are now oftentimes designed by women and for women – form-fitting and designed with women's needs in mind. As women, we've suffered far too long with inadequate men's and youth gear. While hunting will never be about making a fashion statement, it's important to realize the correlation between feeling good and hunting good.
Every woman needs a good outfit for her outdoor excursions. Am I right? Even with women as the largest growing segment of hunters, it's almost impossible to find your perfect #OOTD (outfit of the day).
Here's my list of top hunting gear best hunting clothing for women:
I am a participant in the Amazon Associates Program, an affiliate advertising program designed to provide a means for sites to earn advertising fees by advertising and linking to amazon.com. I may earn a small commission for my endorsement, recommendation, testimonial and/or link to any products or services from this website. Your purchase helps support my work in bringing you real information about hunting and the outdoors.
Boots: Don't wear cowboy boots while you are hiking or hunting. This is why they make hiking boots! If you are cowboy-ing, you are not hunting and if you're hunting, you shouldn't be cowboy-ing. I personally wear a pair of Clark's boots. They are the Neeve Ella Leather Weatherproof Boots. They are an older style and you can't currently purchase on Amazon, but you can definitely find some on the second-hand market at sites like Poshmark.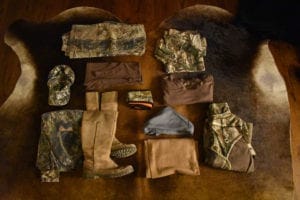 Pants: I previously bought camo pants in the little boy's department and well, that's just not cool. I then transitioned to an amazing pair of SHE Outdoor camo pants. They have very budget-friendly pricing but tend to run large, so I'd recommend buying a size down. I recently began my own search for camo because I've had the same gear since I started hunting eight years ago.
Even with SHE Outdoor specializing in women's hunting apparel, it's a limited selection, especially if you go in-store to Bass Pro or Cabella's. You may find 1-2 pairs of heavy-weight, one pair of medium weight and maybe 1-2 pairs of a lighter-weight selection.
First Lite pants are expensive, but pretty well made. Why do brands get so caught up in the bells and whistles and forget about the basics? I just need a normal pair of camo pants – no crazy knee pads and materials, nothing that swooshes as I walk – just basics. The First Lite pants I bought were a medium weight, but wool-based and too itchy for my comfort.
I now wear Under Armour hunting pants and they are perfect! Great price, great quality, and great fit.
Shirts and Tops: The little boy's department is a fine place to start for basic camo shirts. They fit petite women and are affordable. Sometimes you want a more feminine fit and, in that case, you'll need to move on up to the women's section. Field and Stream has an amazing V-neck short and long sleeve shirt, as does Redhead for Her. They aren't the highest quality, but they do just fine. I also wear brown basic tank tops and long sleeve shirts from Amazon.
Hats: I wear a Browning baseball hat that you'll see in EVERY picture of me hunting.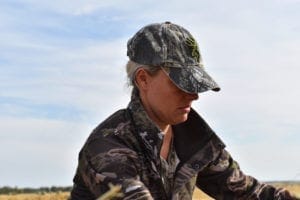 Bandana, Wild Rag or Gaiter: A cowboy gave me his wild rag a few years ago on a cold and windy day in the Texas Panhandle. I've worn it for years. You just feel "country" when you wear it. I recently tried on a Sitka neck gaiter and fell in LOVE. Y'all. Oh. My. Goodness. Dang did I feel sexy in Sitka camo! BUT, because I chose Under Armour for my shirt and pants, I ended up buying their matching neck gaiter.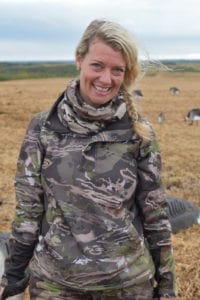 Fleece/Light-Weight Coat: You always need a fleece or lightweight coat. You'll need a larger coat for those super cold days, but 90% of hunting days you need a fleece, even if it's just for under a heavier coat. I've always worn the SHE Outdoors fleece. It's budget-friendly, good quality and a feminine fit. But again, with my new camo purchases for pants, shirts and neck gaiter at UA, I have now switched over to a hooded pull-over.
Whelp! What do you think about my recommendations? What are the best brands and styles for women's hunting clothing and apparel?