Many ladies who icefish have now ended or are very close to ending their seasons. And you may be wondering why I am writing this up now that ice season is over. Well, I really like to give the ice fishing gear I use a full-season test. This lets me know what I can expect out of them and if they will truly last through a hardworking, full, ice season. Another perk to purchasing your next season's items now is that many companies will now start their sales along with selling discontinued or returned items. It may be the best time to make those purchases for your next ice fishing season.
Here is the ice fishing gear that survived my entire ice season, an ice season in that I was out more fishing than I ever had been in previous years. These items held up and are what you need next season!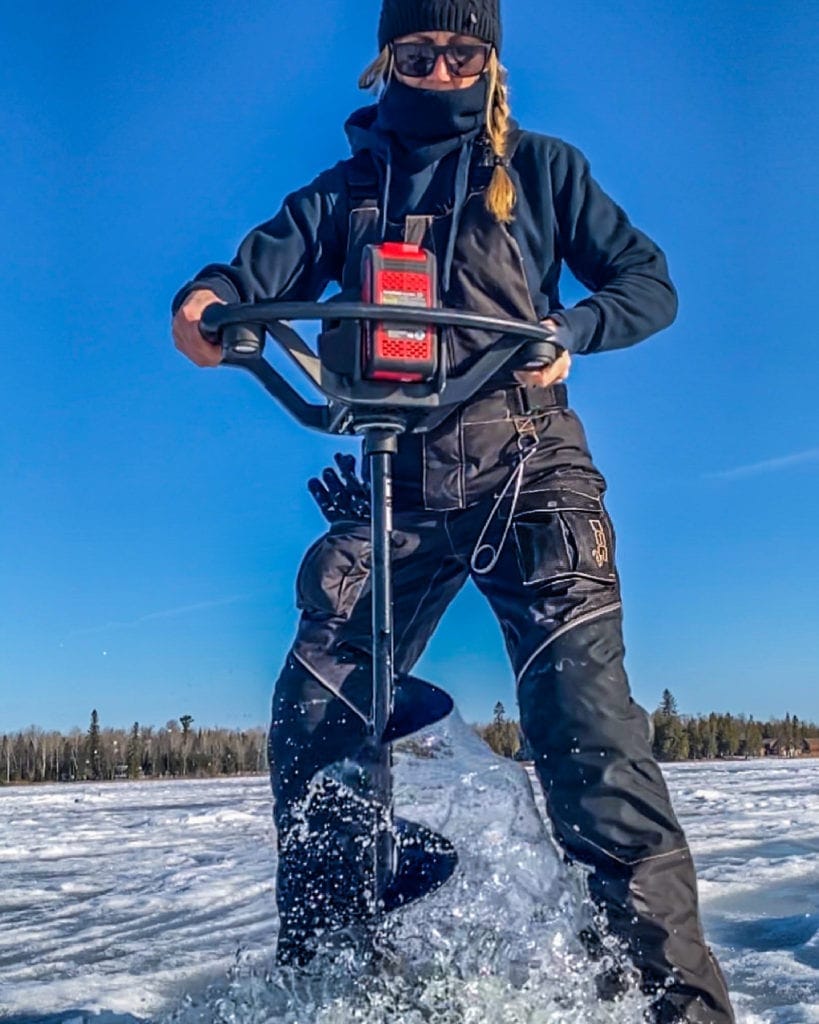 Purchase This Ice Fishing Gear Now for Your Next Ice Season
This is my third year wearing DSG Outerwear Ice. DSG started making ice suits starting with their Arctic Appeal Suit. That suit was amazing, and I actually wore it a few times out this season, but DSG took it one further with the Avid. I rarely fish from an icehouse, which means about 99.9% of the time I am sitting, or more like kneeling, out on the ice in the elements. I NEED something that is going to keep me warm and dry. The Avid did just that. With features like FLOTEX, 170g of Primaloft insulation, waterproof breathable coating, underarm vent zippers, drop seat bibs, knee padding, drain meshing in the waist and cuff, and many other features, this suit kept me incredibly warm for hours out on the ice. This suit also allows for excellent movement, which came in handy when chasing our son around on the ice! DSG is woman-owned and apparel is designed by women, it definitely shows in their attention to detail.
First, this is a float assist suit. If you are looking to get ice fishing gear, I recommend that everyone has a float suit, no matter the brand. However, I have worn DSG for a number of years and their suits live up to the riggers that I put them through each season. Not to mention, their bibs come with the nifty feature of a drop-down seat, which comes in handy when you need to go. Primaloft insulation (think very warm without the bulk), reflective piping (for night fishing), knee panels, adjustable inseams, and a great selection of colors are just a few of the features.
Yes, that is not a typo. They are men's gloves. I have had these for three years and for three years they have held up to the elements and washing. I wear a small. These gloves allow my hands to be mobile, which is one of the biggest perks while fishing. While my hands still do get cold after sitting out for long periods, it has helped to pair them with a wool fingerless glove underneath. EvridWear Men Women Merino Wool String Knit Liner Gloves have done the trick this year. I recommend taking multiple pairs of gloves out with you. If one pair gets wet, you have an extra pair that is dry.
This was new gear for this ice season, and they didn't disappoint. For those that like to have the ability to fish without gloves, this allows for a great compromise. These gloves allow for use of your fingertips while keeping the rest of your hand warm. They can be paired under the DSG ice fishing mitten – just make sure you size accordingly.
Marketed as a hunting boot (which I also use them for), they have come in extremely handy while ice fishing, especially during early and late seasons when the snow/ice starts to melt and pool up. These boots are waterproof, insulated, and easy to put on and take off. I recommend pairing them with a pair of Yaktrax when the ice is not covered in snow (early, or late seasons). I also wear DSG Outerwear Rime Boots and have been wearing these for three years. These are my go-to boots in the middle of the ice season. 800g of Thinsulate insulation, 100% waterproof. I like that these are lace-ups; they provide me a little extra snug fit which I like during the midst of ice season. I pair both boots with a good wool sock.
Both are excellent boots for ice fishing. I prefer wearing a lace-up most of the season and have used the Rime for a number of seasons with no issue. Kids Gear & Apparel
I had previously used Turtle Fur for hunting, so I know this company knows what it is doing when it comes to its gear. This was my second season using it on the ice and I was quite impressed by how well it kept my neck and face warm with the wind whipping off the lake. It is EXTREMELY soft, so if you are looking for something that is not going to scratch your face or cause irritation, this is it. Blocks 97% of UV rays, easy to wash, and has no-fuss sizing.
Before we had our son, we knew we were going to have to figure something out so we could still go out and enjoy what we loved without family close to watch him. I could not pull my husband's gas auger to start it, so as a Christmas gift, my husband purchased this for me (THANK YOU!). This auger is electric. Just charge the battery, pop it on, and go. No pulling cords, putting in gas, warming it up, etc. The battery charges in roughly 2 – 2 ½ hours. An 8" auger will drill roughly 100 holes, 10" auger will drill roughly 70 holes. StrikeMaster recently came out with a smaller 24v version as well. This is my third year with the 40v and it is, hands down, the greatest thing!
This is my new sled and an upgrade from last year's! If you are looking for a cheaper jet sled that allows you to have room for what you need along with the durability you need, this is it. Heavy-duty molded polyethylene, contoured hull, molded runners, and a tow rope. This sled held my bucket, StrikeMaster, Frabill Magnum Bait Station, Flambeau Outdoors Rod Bunk Box, and of course my bag of snacks, water, and other essentials. Our little guy loved being towed around in it and towing it around on the ice!
This is my first season using this ice fishing gear, and I can say without hesitation that they have kept me fishing longer then I would have prior to using these products. I recommend investing in extra batteries, charging them prior to your trip, and taking a spare set with you if you plan to stay out for a long period of time. On the high setting, the heat will last roughly 3 hours.
This is my first season using this little gem and I sure wasn't disappointed. The 13-quart is a great little compact cooler to get your bait securely where you need it. I often have limited room in my sled, and this fit perfectly. Comes with a 2-speed pump, hose & bubbler stone, and pull-out net. It also comes in a smaller 7.5-quart size (along with bigger sizes). 
Big Dipper Ice Scoop
I was sick of using the metal ones and freezing my hands off. So, this season I finally purchased the Big Dipper. The ruler is printed on the handle, which means not having to worry about packing a measuring ruler. A variety of lengths means you potentially don't have to kneel down to clean out the ice. 
Boomerang Tool
Extremely handy for cutting lines. A retractable tether allows you to keep the tool hooked onto your suit, cut what you need to, and retract it back into place. 
This little handy guy can remove even the tiniest hooks from the mouths of fish. I find this great especially on fish with small mouths (think bluegill, perch, and sunfish). 
This was my first season using these during burbot fishing. They worked excellently on keeping the bait on for longer. Dispenser comes with 100 buttons, but you can purchase more to refill. 
Kids' Ice Fishing Gear and Apparel
Again, the use of a float suit is crucial while ice fishing. You definitely need to make sure your child is wearing one as well. The coat is a little longer in the back, which is perfect for keeping the cold wind off the back. Insulation consists of 225g combined F.A.S.T and FXR Thermal Flex, reflective piping,  removable hood, and bright colors. 
Gloves
LOTS and lots of gloves. Our child prefers to have use of his fingers, and the best ones we have found are cheap knit gloves. Amazon has six pairs of Hicdaw gloves that come with cute designs. When they get wet or he gets cold, we switch out pairs. 
Great snowmobile helmet for kids and comes in a variety of designs. DOT-approved, removable and washable padding, quick-release buckle, and comfortable. Our son really enjoys wearing it on our outings that include a snowmobile ride, which has been most this season.
Great boot for kids that actually keeps their feet warm and dry. Includes waterproof insulation with -30F comfort rating. Easy to slip on and off and come in a variety of colors.
Hopefully, this list of the best ice fishing gear helps you get what you need to enjoy next ice season.
This post contains affiliate links. Miss Pursuit may earn a small commission for our endorsement, recommendation, testimonial and/or link to any products or services from these websites. Your purchase helps support our work in bringing you real information about hunting and the outdoors.
This post may contain affiliate links. Miss Pursuit may earn a small commission for our endorsement, recommendation, testimonial, and/or link to any products or services from this website. Your purchase helps support our work in bringing you real information about hunting and the outdoors.