Hunting is an exciting outdoor pursuit for women with some top-notch gear choices in 2023. Whether you're hunting deer with popular ammo for deer hunters or chasing other game, here are the top 10 must-have items for female hunters.
You'll find high-quality apparel and cutting-edge accessories, such as rain jackets from KUIU and Sitka, a hunting knife from Montana Knife Company, and boots from LaCrosse. Ready, get set, GO!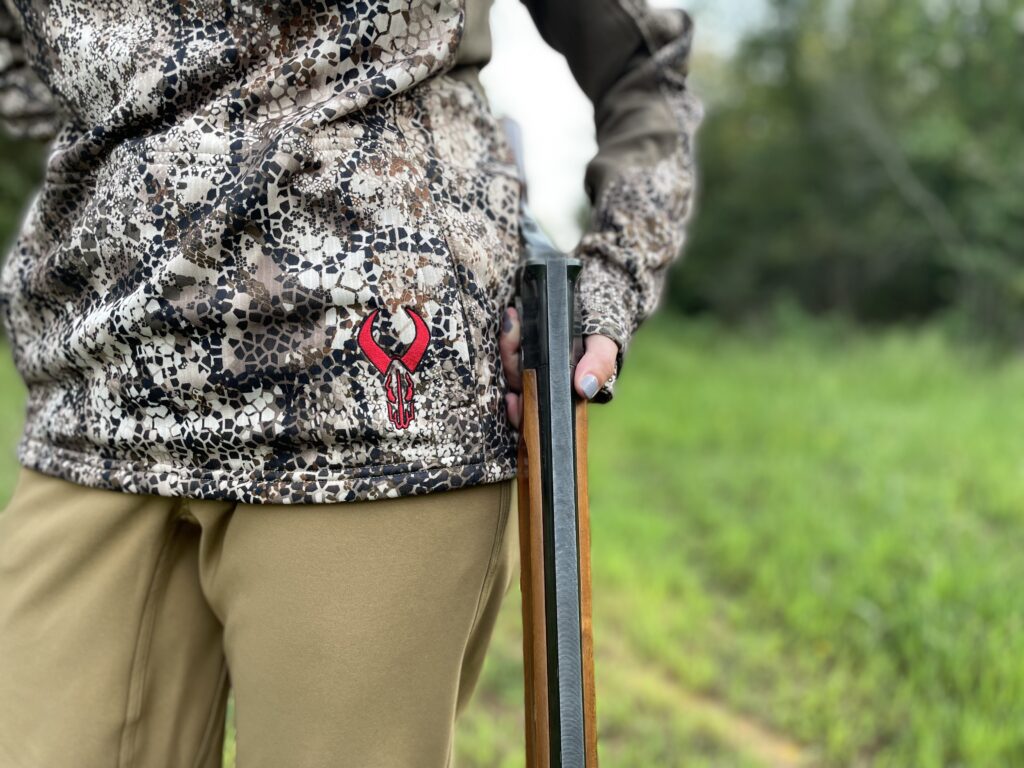 Top 10 Hunting Gear For Women of 2023
Here are the top 10 hunting gear for women in 2023:
Compound Bow
With its innovative design and features, a compound bow is a popular and essential hunting gear for women.
Some of the top-rated compound bows for women in 2023 will be the SAS Outrage and Genesis Original, both praised for their performance, durability, and ease of use. Major manufacturers like Mathews and Hoyt will also release new bows tailored specifically for female archers.
Hunting Boots
The right pair of hunting boots provides support, protection, and comfort to make your experience more enjoyable while traversing rugged terrains.
Schnee's Kestrel is the best women's hunting boot overall due to its durability and exceptional performance in various environments.
For mountain hunting or cold weather conditions, you need boots with specialized features such as insulation and waterproof linings.
Camouflage Clothing
Camouflage clothing helps hunters blend with the environment, stay undetected by prey, and protect themselves from the elements.
Mossy Oak offers a wide range of hunting pants designed specifically for women, featuring comfortable and durable materials that keep you dry and warm during your adventures.
Another leading brand in camouflage clothing is Sitka, which provides high-quality apparel such as jackets and pants tailored to fit female hunters comfortably. For those seeking rain gear options made for unforgiving weather conditions, look no further than Kings' lineup of waterproof jackets, shirts, and pants.
Camouflage Backpack
A camouflage backpack is vital for any hunter who wants to stay hidden from their prey. It allows you to carry all your hunting gear in one convenient place while also blending seamlessly with your surroundings. When choosing a backpack, consider its size, weight capacity, and durability.
Another benefit of having a camouflage backpack is its versatility beyond just hunting. You can use it on hikes or camping trips where you must carry essentials like food, water, extra clothing layers, and first aid kits.
Headlamp
It lets you keep your hands free while providing a bright light source. The best options on the market come equipped with waterproofing and multiple light modes, including red, green, and blue light settings for preserving night vision.
Don't overlook the importance of investing in a quality headlamp for your hunting gear arsenal.
Hunting Knife
Some of the best hunting knives for women in 2023 include models from Benchmade, Gerber Gear, and Buck Knives.
When choosing a hunting knife, it's important to consider factors such as blade size and material. For instance, skinning knives should have shorter blades for better control while gutting an animal.
Investing in a sharpener is also worth it so your hunting knife remains in top condition throughout the season.
Binoculars
Binoculars are essential for any hunting trip, allowing you to scout potential targets and keep a safe distance from them.
The Meopta MeoPro HD Plus 10×42 is a great entry-level option. They offer excellent image quality and a rugged design that withstand harsh outdoor conditions.
For experienced hunters or bird watchers, the Swarovski Optik EL Range 10×42 stands out as the top-of-the-line model with impressive features such as laser rangefinder technology and HD optics.
Hunting Rifle
A reliable hunting rifle is a must-have item for women who want to enjoy the thrill of hunting. The caliber of the rifle should match your skill level and the type of game you want to hunt.
For example, if you want a versatile and accurate rifle that can handle medium-range shots, you might consider a .270 or .308 Winchester cartridge. They have proven to be popular ammo for deer hunters due to their performance and reliability.
You can find high-quality ammunition for these cartridges at ProArmory, an online store that offers a wide range of hunting products. One of their best-selling products is the Norma 243 Win Whitetail 100 Grain, which delivers consistent results and excellent penetration.
Besides the caliber, you should also pay attention to the quality and durability of the rifle. You want a rifle that can withstand harsh conditions and rough handling in the field. You also want a rifle that feels comfortable and easy to use in different positions and situations.
GPS Device
A GPS device helps hunters find their way, follow their route, and survey their area, and it keeps them from losing their bearings or getting confused in unknown settings.
A reliable GPS device should be rugged, water-resistant, and have a long battery life to withstand the outdoor environment. Some hunting GPS devices come with preloaded topographic maps; others allow downloading maps from a computer.
Hunting Blind
A hunting blind helps hunters remain undetected by their prey. You can choose from different types, including elevated tower stands or modular insulated hunting box blinds from Orion Hunting Products.
Both options provide a secure and concealed location for the hunter to survey their surroundings and take a shot when the time comes. Additionally, using a camouflage hunting blind paired with appropriate clothing like DSG Outerwear's designed-for-women line ensures successful concealment during your hunting trips.
It's important to note that in certain areas or seasons; regulations may be in place limiting the use of game blinds or decoys; if you're planning on fall turkey hunting during deer archery-only season in Tennessee; certain counties are closed off, so make sure to check respective state laws prior to heading out into nature with your gear.
Factors To Consider When Choosing Hunting Gear For Women
To choose hunting gear for women, consider comfort and fit; camouflage and concealment; durability and quality; versatility; weight, and portability.
Comfort and Fit
One of the most critical factors to consider when choosing hunting gear for women is comfort and fit. With more women engaging in outdoor activities such as hunting, it's essential to prioritize functionality and comfort while selecting new brands and styles of women's hunting apparel.
Women have varying preferences for the features they prefer on their hunting gear, making finding the perfect fitting outerwear challenging. Properly fitting clothes can make a huge difference in how long one can stay out in the field before calling it quits due to discomfort or irritation from ill-fitting clothing.
Therefore, finding options for rain gear for female hunters shouldn't be overlooked since wet clothing can lead to chills or other health issues if not addressed quickly.
Camouflage and Concealment
Camouflage and concealment are vital when choosing hunting gear for women. The right camouflage pattern can make all the difference in remaining undetected by prey while on a hunting excursion.
It's important to note that camouflage clothing isn't just about blending into your surroundings; it's also about breaking up your human silhouette. Hunting apparel brands like DSG Outerwear offer jackets, pants, and other accessories with strategic placement of patterns and colors designed to help hunters disappear into their environment.
Durability and Quality
Selecting durable and high-quality gear is essential to ensure a successful and safe hunting trip. When it comes to garments such as hunting jackets; pants; gloves; hats etc.; quality materials used will determine how well they last throughout seasons of wear.
For example, investing in hunting boots made from waterproof leather or synthetic materials with sturdy soles can help hunters stay comfortable and dry during inclement weather conditions.
When it comes to firearms like rifles or compound bows, durability, and accuracy are paramount. A weapon's construction should be checked carefully to ensure it can withstand rough handling in the field without misfires or breakage.
Hunting knives are also significant assets that must be durable enough to handle heavy-duty tasks such as effectively skinning game animals.
Versatility
Choosing hunting gear that can serve multiple purposes is essential for any hunter, especially for women who may need to pack lighter. Opting for versatile gear means you'll be able to handle different situations efficiently without needing to carry a separate item for each scenario.
For instance, instead of packing two backpacks, a medium-sized camouflage backpack can be used as your daypack and your meat hauler.
Another example is choosing clothing items with extra pockets or layers that can easily be added or removed based on temperature changes or activity level.
Overall, versatility should always factor into any hunter's decision-making process when selecting their equipment.
Weight and Portability
One important thing to consider when choosing hunting gear for women is weight and portability. This is especially important when it comes to apparel and other gear that will be worn or carried for extended periods of time.
Opting for lightweight materials can help reduce fatigue and increase mobility during hunts.
Another item where weight matters is the firearm itself. The right rifle should balance power with portability, taking into account not only the gun's weight but also its maintenance requirements.
Women hunters might opt for a smaller caliber rifle that has less recoil, making it easier to carry on longer hunts without getting fatigued or uncomfortable carrying their weapon around all day.
Conclusion
There you have it! Our top 10 list of the best hunting gear for women in 2023. It includes must-have items like compound bows, hunting boots, and camouflage clothing. Whether you're using popular ammo for deer hunters or opting for arrows, you'll need to consider factors like comfort and fit when choosing your gear, along with key features like durability and quality.
This post may contain affiliate links. Miss Pursuit may earn a small commission for our endorsement, recommendation, testimonial, and/or link to any products or services from this website. Your purchase helps support our work in bringing you real information about hunting and the outdoors.