Miss Pursuit Contributors received complimentary products from Adventure Read Brands. All opinions are 100% our own!
The number of tools available to thrive in the outdoors is endless. However, gathering these tools doesn't have to be hard, especially if you find a brand that carries just about everything you'll need to survive the outdoors. This company is Adventure Ready Brand (ARB) Products.
Adventure Ready Brands consists of multiple brands. Many products are sold at larger sporting good stores.
Below are some products that I find particularly useful for surviving (and thriving) in the outdoors.
Survival Tools from Adventure Ready Brands
Insect Repellents
The two products I love to use include the Natrapel Insect Repellent and Ben's Tick and Insect Repellent wipes. I feel comfortable using the natural bug spray around my dogs and daughter. It has proven to work just as well as some of the more chemically infused bug spray options on the market. I take this bug spray on any adventure where I am not carrying a pack. When I will carry a pack, like when I'm hiking or at a 3D archery shoot, the wipes are perfect. The wipes pack comes with 12 individually wrapped wipes so I can easily stow away one or two in my pack instead of carrying a whole bottle of bug spray through the woods.
Adventure Ready Brands also has a Ben's Tick Fence Backyard Tick Control Perimeter Spray. I haven't utilized the spray yet but plan to give it a try if the ticks in my yard become increasingly apparent. It also provides a nice option to use around the perimeter of an area such as a campsite.
Tools
The Stock Pivot Knife and Saw is a staple in my hunting pack. A knife comes in handy for quite a bit, including cleaning animals. The serrated part of the blade is perfect for cutting down smaller branches that are impeding my sight lines in my stand and it will also be great for cutting through bone (particularly the pelvis of a deer) when cleaning animals this fall. The knife comes with a heavy-duty sleeve as well as a flint fire starter and tinder cord.
A hatchet is a nice tool to have, especially when camping. The Stoke Camp Hatchet is compact, light, and has a nice balance to it. It has been ideal for cutting logs into smaller pieces for a campfire as well as for cleaning up downed trees and branches blocking trails. It also comes with a solid case, a flint fire starter, and a tinder cord.
Medical Kits
The Adventure Medical Kit Sportsman Series kit contains the medical basics for survival. They provide different-sized kits. The med bag I have is the Sportsman 200 which is ideal for up to 4 people and 4 days. This kit stays close to me at all times. It is lightweight, compact, and contains all the essentials for basic medical care.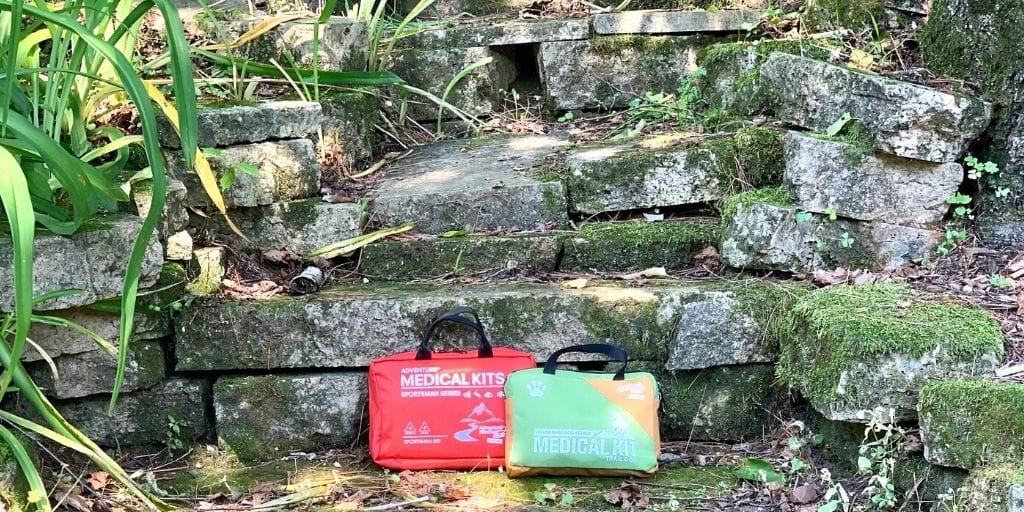 The Vet Medical Kit is awesome. I have the Trail Dog version. It is reasonably priced and a great tool to have on hand. On a hike with my dogs and daughter, I once had to use a diaper (it was the only option) to try to control the bleeding after my dog cut his leg. If only I would have had this med kit at the time! It comes with the essentials needed to triage and stabilize an injured dog. A booklet with information about how to care for an injured dog in the field is even included.
The kit is lightweight. The contents are logically organized and efficiently packed. Certain contents even come in a waterproof bag. This kit will definitely stay either with me or near me on all adventures that include my dogs.
Adventure Medical Kit also offers something they call Backyard Adventure Medical Kits. These are small, circular packs with an animal face printed on the front. It looks like it clips right onto a backpack or belt loop. I can't speak to the contents of the kit but I do appreciate the creativity and attempt at making a child-friendly medical kit. I plan to purchase one of these once my daughter is older.
Adventure Ready Brands is a one-stop shop for finding all kinds of items and survival tools for outdoor adventures.
This post may contain affiliate links. Miss Pursuit may earn a small commission for our endorsement, recommendation, testimonial, and/or link to any products or services from this website. Your purchase helps support our work in bringing you real information about hunting and the outdoors.